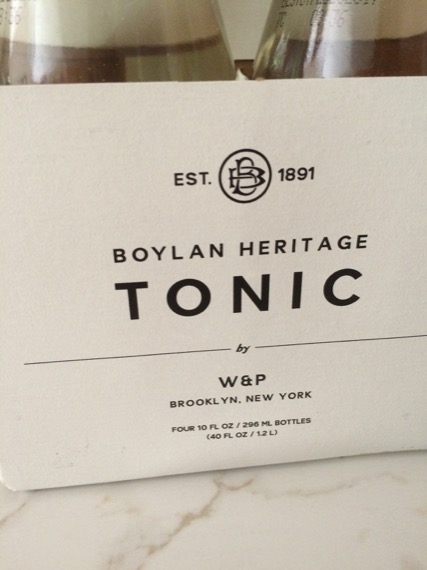 Boylan Heritage Tonic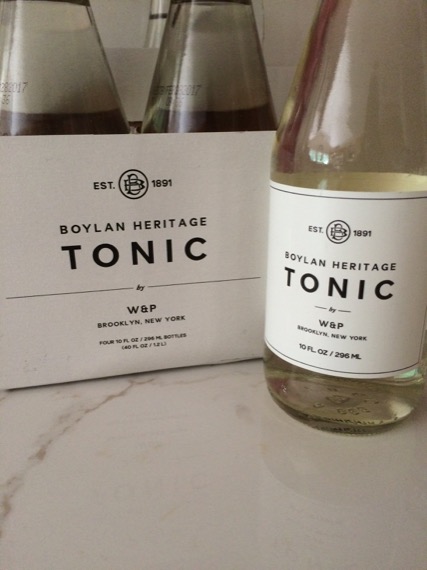 Notes:  All Natural Citrus, Botanicals, Cane Sugar  — Lemon, Lemongrass, & Lime — A blend of sweet, bitter and sour offer a well-rounded adult soda.
Other Tonics Tested:
Fever Tree — Notes:  Citrus, Bitter Orange, Lime, 8 Botanicals (including marigold extract)
Jack Rudy Cocktail Co. — Notes:  Sugary Sweet, Orange, Lime, Botanicals
Untested:
(Listed In Order Of Interest)

Homemade (see below)
John's Premium Tonic Syrup  (Agave, Fresh Citrus, Lemongrass, Secret Herbs and Spices)
Q Tonic  (Agave and Lemon Juice)
El Guapo Tonic Syrup  (Cane sugar, Lime, Lemon, Graapefruit, Orange, Lemongrass, Ginger, Grains Of Paradise, and Secret Herbs and Spices)
Fentimens (Pithy Citrus, Lemongrass, Juniper and Lime Leaf)
(Other Fentimens sodas have a medicinal quality, will this one?)
Hansen's Natural (Orange, California Citrus, Sugar)
—
Homemade Version Of Tonic Syrup
(Kevin Ludwig – Imbibe Magazine April 2007
Adapted By PDX Food Dude)
 Ingredients:
• 4 cups of water
• 3 cups pure cane sugar
• 2 ½ -3 Tbsp quinine (powdered cinchona bark)
(original recipe calls for 3 Tablespoons)
• 6 Tbsp. powdered citric acid
• 3 limes – zested and juiced
• 3 stalks lemongrass, roughly chopped
• ¼ teaspoon kosher salt
Experiment with a combination of flavors that work for you, but don't go overboard. Let the gin do the talking. Some recipes call for allspice, and sometimes I will throw in orange zest or whatever else catches my eye.
Make a simple syrup by bringing the sugar and water to a boil, and stirring until the sugar dissolves. Turn heat to low. Add quinine, citric acid, lemongrass, lime zest and juice. Stir and simmer for 25 minutes.
Remove from heat.  Only let the mixture cool enough so that you can work with it, as it is much more difficult to filter once it reaches room temperature and the sugar thickens.  Do a quick filter through a mesh strainer to remove the large solids.  Then, drape a double thick layer of fine cheesecloth over your strainer – keep it long, and let it trail across the counter.  Place the strainer over a bowl and start filtering by pouring the mixture through the cheesecloth.  Be patient; each pass takes a good 30 minutes.  I keep the bowl over very low heat to make sure the tonic stays warm.
As the fines plug the cheesecloth, carefully move it across your strainer and up the other side. You may need to adjust it several times during the filtration process. Repeat the process two more times, or until most of the solids are removed.
You can try your tonic now – use the recipe below, but it will be best if you let the mix settle out for a couple of days in the refrigerator, and carefully pour the clear liquid off of the top. In my experience, letting the mix 'mellow' for a few days smooths out the rough edges, and greatly improves the final product.
Pour your tonic into clean glass bottles, cover and store in refrigerator. It will keep at least two weeks.
—
To make your gin & tonic, use the following proportions:
½ oz. tonic syrup
1-½ oz. gin
Splash (little or big) of soda water from soda siphon
Ice cubes
Glass:  double rocks
Garnish:  lime twist, or drop the lime wedge in the drink
 Cheers!