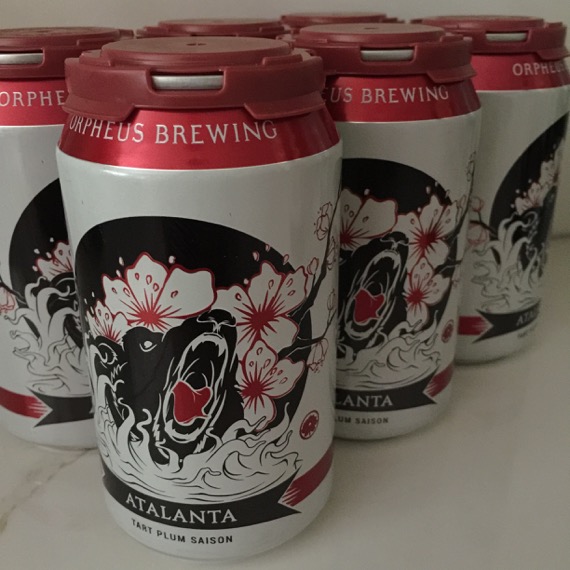 Atalanta
Tart Plum Saison
Orpheus Brewing
Rule #1:  Do not drink this out of the can!!!
Rule #2:  See rule #1.
Once removed from said can, it's a pleasure to drink.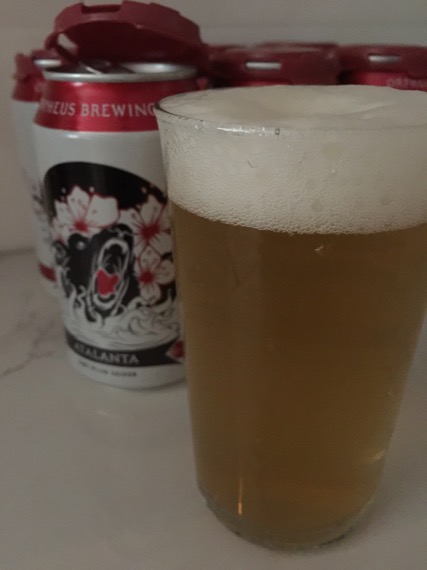 We might overuse the word lovely and delightful.  We have no intention of stopping.  When deserved, we'll be saying it again and again.  Actually, we'll be saying it right now.  This one is refreshingly light, lush and lovely.  It's an absolute delight to drink.
Gorgeous effervescent bubbles…  This is all things brightness and light.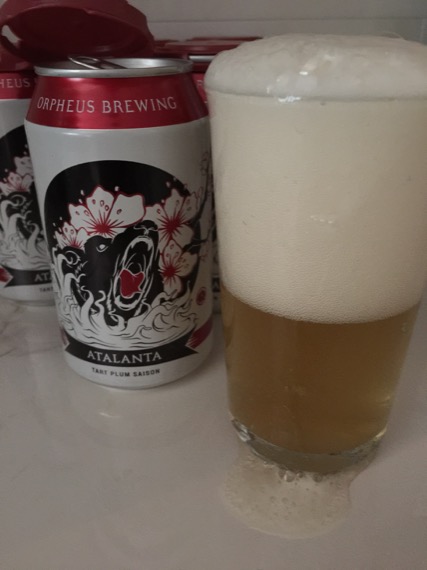 We can't remember the last time that we drank beer from a can.  (White Thai, Westbrook Brewing Co., here, probably)  Suffice it to say, we haven't been drinking a lot of beer out of a can.  So, when we pulled the can off of our icy cold six pack, we opened it immediately…. forgetting that we had just seriously agitated the can.  It erupted in a fun, foamy, festive mess.  And, we loved it.
We weren't sure what to expect from this saison in a can.  But, this was lovely, bright, clean, and tart.  For us, the best sips were the first icy cold sips.  But, as the temperature rises, there is an awakening in complexity.  The fruity rich depth of plum fills our nose and taste buds.  There is a pleasantly yeasty quality.  But, the sour yeast-y notes are so delicate and pleasant it feels wrong to describe them in that way.  It's more of a refreshing, day light bright, fresh, fruit-y, crisp, over ripe citrus-y, yeast-y balancing out in the background.  The word elegant springs to mind.
If a bright, funky fresh saison and cava had a baby, it would be this.
We want more…. BEER FROM A CAN!  Hell, yeah!
Love, love, LOVE IT!