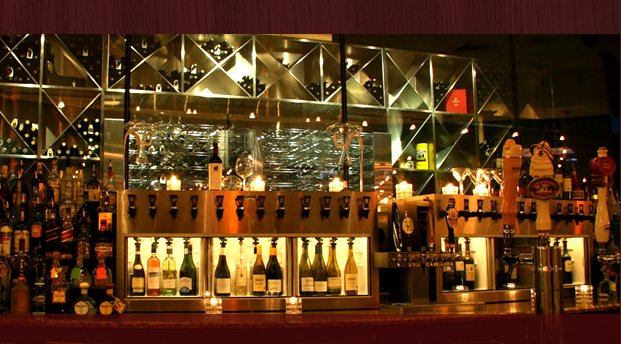 The Setting:  Huge comfy booths, wooden tables & chairs and outdoor patio seating give you plenty of options for comfortable seating.  And, of course, there is a large bar that offers a view of their wine dispensing apparatus.
The Staff:  Friendly and helpful
The Food:  On a number of visits, the food has proven to be both reliable and interesting.  While not groundbreaking by any means, the 75% whole wheat flatbreads are full of flavor.  Rosemary and herbs add to their charm.
Fig jam, prosciutto, and a bleu cheese flat top my list of favorites.  While, it's not the best version of this trio that I've had, it is still quite good.  And, obviously, pairs well with a number of wines on their list.  The Black and Bleu with steak, bell pepper, tomatoes and a balsamic glaze follow the leader closely.  The one change that I'd like to see occur would be the purchase of a mandoline.  The tomato slices were far too thick for my taste.  And, finally, the spicy shrimp and chorizo flat with chipotle sauce make the perfect partner to a frosty glass of Sweetwater.
Perfectly fresh salads and side vegetables round out the menu.  My order of spinach and mushrooms were delicately sauteed.  The spinach arrived to the table just-barely-wilted and bright green.  I couldn't ask for more in a simple side item.
The chocolate fondue served with a platter of dunkable treats was a meal unto itself.  Accompanied by bits of pound cake, marshmallows, juicy strawberries and perfectly ripe pineapple, we enjoyed every bit of it. 
Right now, when watching the nightly news has become a character-building experience that tests our courage and endurance, I need marshmallows dipped in melted chocolate.  I'm not looking for flashy, cutting-edge desserts.  I want warm, soothing melted chocolate. 
The Webb Gin location has their events listed on the website.  Here.
Star of the Day:  Chocolate Fondue… traditional, classic and delicious!
Urban Flats
The Avenue — Webb Gin
1250 Scenic Highway SW
Lawrenceville, GA 30045
678 344 2022
Lindbergh City Center
2450 Piedmont Road, Suite 100
Atlanta, GA 30324
404 949 0600