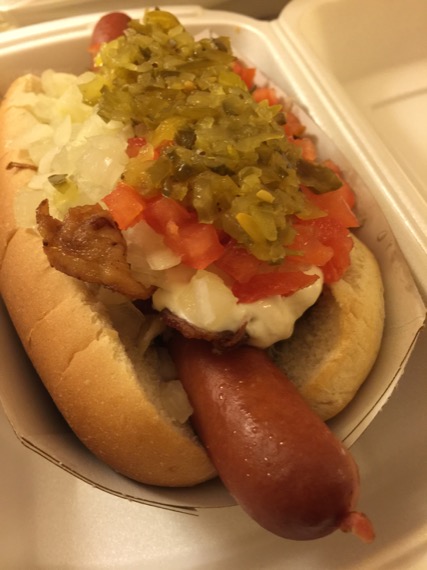 The Showgirl Dog
Relish, Tomatoes, Onion, Sour Cream, Bacon, & Sauerkraut
Yeah, we know… it's a weird and unique combination.
Surprisingly, this was the best of the Pink's Hot Dog bunch.  (To clarify, we mean out of the hot dogs that we tasted.)  We would never guess that you could put sour cream and sauerkraut on the same hot dog.  And, magically, that hot dog would somehow be edible.
We threw about half of polish sausages (see below) away.  Yet, we were fighting for the last bite of this strange hot dog.  We believe the (thankfully) light handed use of the sauerkraut was key to the success of this hot dog.  And, it was the only light handed use of any of the Pink's hot dog toppings.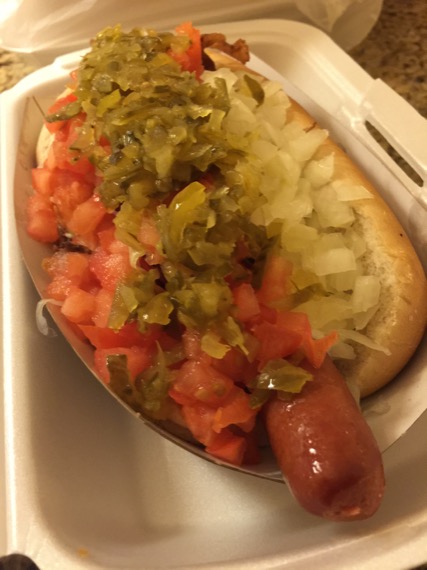 All of the toppings are used excessively.  It's their thing… their gimmick.  But, it's definitely not our thing.  More does not equal better!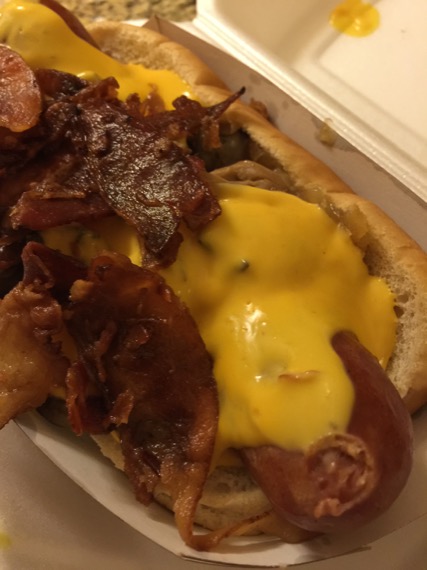 The Planet Hollywood Dog
Polish Sausage, Bacon, Nacho Cheese Sauce, Grilled Onions, & Grilled Mushrooms
Not bad, but, we're not fans of Pink's Polish Sausage.  The flavor was… off.  And, the sausage itself was unpleasantly chewy (as if it had been simmering in water for some time… quite some time).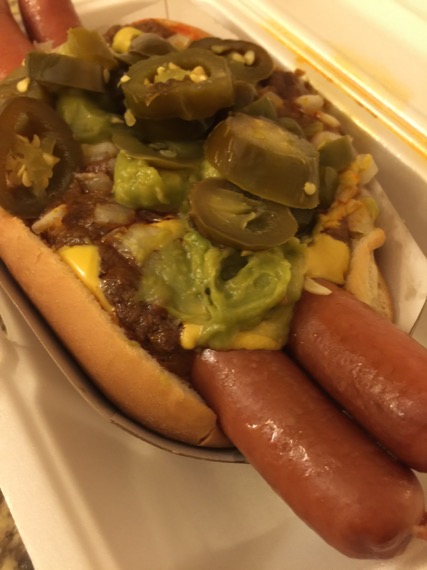 The Vegas Strip Dog
Two dogs, Chili, Nacho Cheese Sauce, Gaucamole, Onions, Mustard & Jalapeños
This one was "ok" as a novelty.  But, the bun was very soggy under all of that chili.  And, who needs more than one hot dog per bun?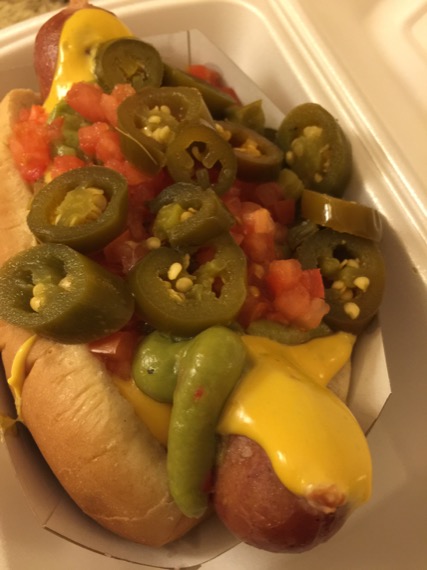 The Spicy Mohave Dog
Polish Sausage, Nacho Cheese, Gaucamole, Tomatoes, & Jalapeños
Eh, another overcooked polish sausage… Two or three bites in, this hit the trash.
The Fries?
They were worse than horrible.  What's a word for that?  Let's go with inedible.  Imagine, if you will, the type of crinkle cut fry that comes straight out of a freezer bag.  To add insult to injury, these were barely cooked, gritty textured in the center and cold.
Cost per dog?  $7 -$9
The above meal was about $43.  And, it was easily our least favorite meal in Vegas.
…by far
We're not fans.