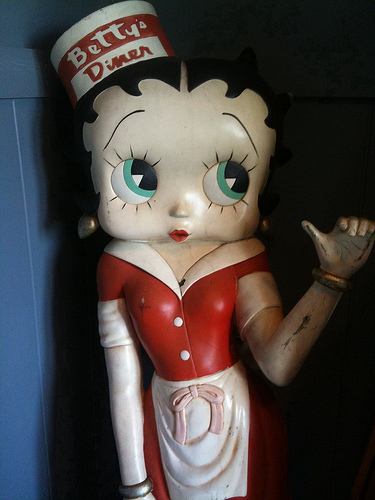 Betty invites you in.  (One of us loves Betty.  Cleary, someone at Smokejack does, too.)  We found Smokejack by chance about 2 years ago.  We've been loving it ever since.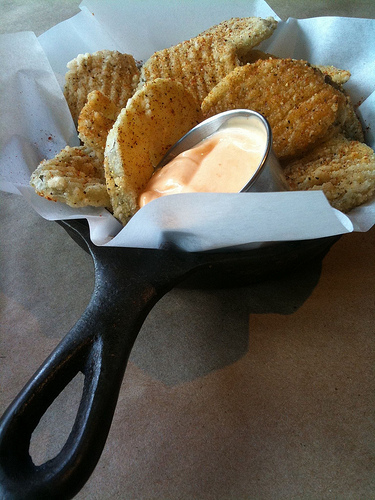 Fried Pickles
We're not usually fans of fried pickles.  But, these were really good.  Part of this dish's success comes from the pickles.  They were closer to a deli-style garlic pickle than the bottled grocery store variety.  They were mildly spicy with loads of garlic flavor.  Fried crisp in a not too heavy batter, they were a great start to the meal.  Eat fast, though.  They get soggy pretty quick… like all fried veggies with a high water content.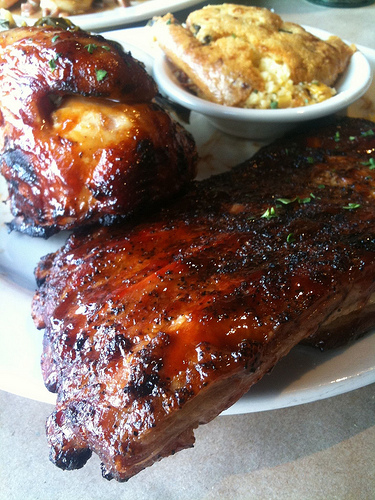 KC BBQ Ribs, Chicken, Corn Pudding, & Collards
It's hard to judge the size of these ribs.  (They filled a standard take-out box from corner to corner.)  Every portion on this huge platter is more than generous.  But, if the quality wasn't there, it wouldn't matter.  No worries, though.  Every element was near-perfect.  The corn pudding was fabulous.  The collard greens were solid.  (Not as good as Fox Bros., though)  Chicken and ribs were both outstandingly good and cooked to perfection.  The chicken was crisp at the edges and moist & tender inside.  Loved it!   And, we love their bbq sauces.  They have a Carolina mustard, a KC style, and a pasilla pepper sauce.  They're all good, but, we're particularly fond of the Kansas City style.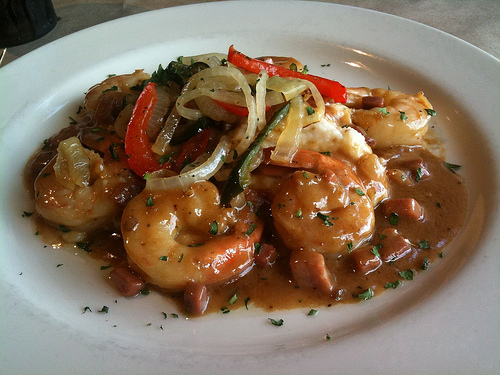 Shrimp & Grits
We were happily surprised by this dish.  We ordered it a bit hesitantly.  But, the super smoky bacon makes this dish fit right in.  Large shrimp, peppers, onions and slow-cooked grits… all of the expected elements are represented.  It's a good dose of skill that sets this dish apart from all the rest.  The brown sauce has a lovely depth and complexity to it.  We'd order it again eagerly.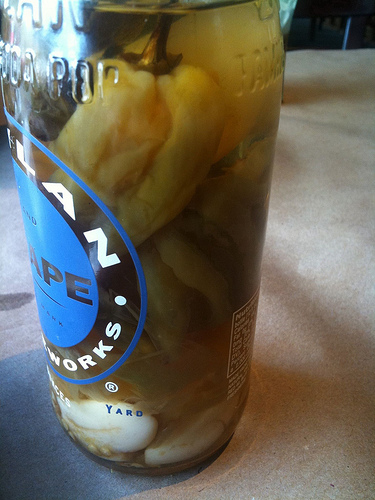 Habanero Hot Sauce with Garlic
Oh, yeah… they make their own habanero hot sauce.  I dare you.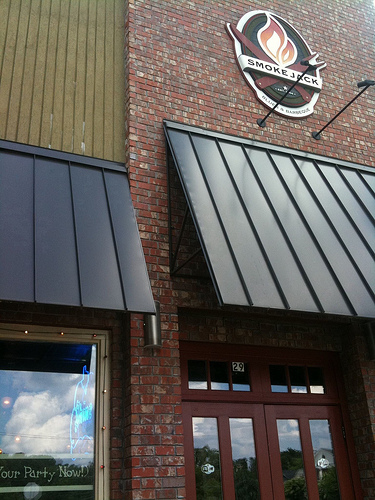 We love Smokejack a little bit more with each visit.  And, the temptation of chocolate pecan pie will have us returning sometime soon.  (Very, very soon)  One of these days we'll make it to dessert.
SmokeJack
29 South Main Street
Alpharetta, GA 30009
770 410 7611