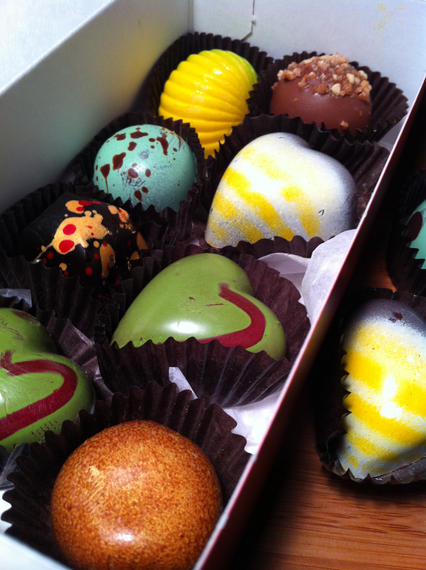 The Chocolate Bar
A simple red box stuffed with tissue paper might not have the artistic flair of Sugar-Coated Radical.  But, it allows the chocolates to make the journey home without melting in warm hands.
This box holds a key lime shell, praline ball, robin's egg blue chocolate mint, yellow passion fruit heart, spiced dark chocolate square, 2 pistachio cherry hearts, and one golden honey circle.
For us, these fall into the chocolate-coated cream category.  The supporting roles of praline, fruit purees and honey steal the show.  We would've preferred the chocolate to take center stage.  But, they were very tasty nonetheless.  The praline with crispy toffee-like bits suspended in the cream had us wishing for a box full of them.  And, the green pistachio heart held a surprise in the form of a rush of liquid cherry.  It was a fun little surprise.  Another winner was the chocolate covered honey cream.  The soft milk chocolaty shell gave the impression of biting into real honeycomb as you break through to the even softer cream.  The interesting texture combined with the deep, rich flavor of honey made this the most unique and interesting chocolate of the day.
The Chocolate Bar
201 West Ponce De Leon Avenue
Suite C
Decatur, GA 30030
404 378 0630