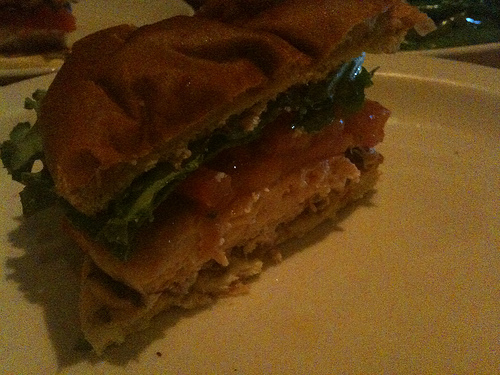 Salmon Sandwich:  Fresh, tasty, and perfectly cooked.
The salmon was perfectly cooked, but, came on a rather wimpy hamburger bun.  Even so, the bun was perfectly fresh, toasted and my honey loved it.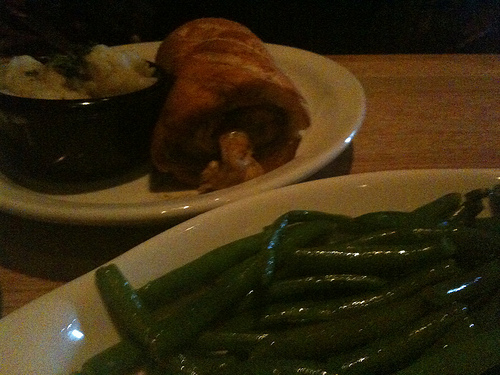 The winner of the day:  Spicy Shrimp in a baguette… Can you see my sandwich in the back?  Kinda?  Sorta?
Why am I posting these God-Awful photos?  I don't know.  You can't really even make out the spicy shrimp sandwich in the background.  But, the flavors of this sandwich are a great match to New Orleans style BBQ shrimp.   And, I love this version of spicy shrimp in a baguette.  The shrimp really are IN the baguette… no slicing has been done… the shrimp are stuffed in a hollowed out core down the middle.   A blend of peppers spice up the butter.   On first bite, the flavor is mild peppery spice and yummy buttery goodness.  By the end of the sandwich, my mouth was nearing a simmer and my eyes were starting to water.  Yes, a sandwich so good it made me cry!   Seriously, I really did love it.
Noteworthy App:  Buffalo Oysters (no pictures, no great loss considering the poor quality of the two above).  Six perfectly fried oysters are dished up charmingly in a ceramic escargot dish.  Then, each oyster is drizzled with hot sauce and specks of blue cheese dot the top.  The heat of the oysters melt the blue cheese and make this dish superior to standard wing shop fare.
Stars of the Day:  Buffalo Oysters and Spicy Shrimp in a baguette
The Tavern @ Phipps Plaza
3500 Peachtree Rd NE
Atlanta, GA 30326
404 814 9640