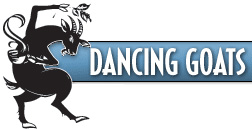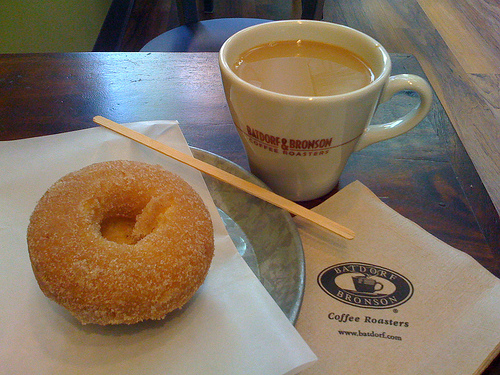 The Setting:  On the outskirts of downtown Decatur, Dancing Goats Coffee Bar offers plenty of seating.  Take your pick of table in sizes varying from 2 person to 8 person, bar seating, comfy sofas, or arm chairs.
The Staff:  Cheerful, friendly, and helpful
The Food and Coffee:  Donuts, scones and bagels provided by Duck's Cosmic Kitchen are superb as always.  My cherry and toasted almond scone was full of flavor.  Plump cherries and almonds were generously dotted throughout a perfectly buttery, crumbly scone.  It couldn't have been any better.  Duck's Cosmic donut… really a fauxnut… is baked in a donut shaped pan.  It is then dipped in the lightest glaze for the sugar and cinnamon to adhere in a perfectly uniform coating.   To me, it's a marriage of donut, muffin and snickerdoodle all in one.  I hate to repeat myself, but, it couldn't have been any better.  The bagel was both delicious and beautiful.  It's a thin golden-brown ring with a large hole.  The benefit of the larger than normal hole appears to be the perfectly golden brown shell that covers ever inch of the bagel.  No doughy inner pieces where the more bloated holes fuse together… perfection.
And, the coffee was also top notch.  Smoky, rich, complex and powerful.  We sampled the Dancing Goats blend coffee and an espresso drink.  I believe the Dancing Goats blend was superior as a coffee.  The iced cafe mocha had a lot going on.  With the distraction of chocolate, cream and generous slathering of whipped cream, it's hard to be sure if it makes an equally superior espresso.  We'll just have to make another trip to sample the espresso.  It's only fair.
Also worth noting… the bag of freshly roasted Dancing Goats blend is possibly the freshest bag of coffee I've ever purchased.  The smell has permeated every room of our house.  It's a wonderful thing.  The sweet scent of coffee fills the air as I sit here… tempting me with each breath.
Weekly Event:  Coffee cuppings with a company roaster take place every Friday at 10am and are open to the public.
Art:  Local artist's work decorate the walls.  Most… if not all of the pieces are for sale.  I love a little art with my morning coffee.
Star of the Day:  Impeccably fresh Dancing Goats blend coffee… Mmmm
On the agenda for sampling ASAP:  Java Estate (Indonesian), the Mocha Java blend and Kenya AA Ruiru Tassia Estate
Dancing Goats Coffee Bar
419 W. Ponce De Leon
Decatur, GA 30030
404 687 1100
Hours:
Mon-Thurs 6 am to 7 pm
Fri 6am to 8pm
Sat 7am to 8pm
Sun 7am to 7pm