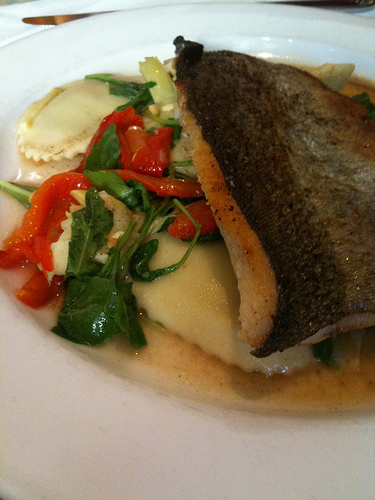 Pan-fried Trout with Goat Cheese Raviolis
Enjoyable dining choices keep the Phipps and Lenox malls at the top of our list when it comes to choosing a mall for holiday shopping.  The crispy pan-fried trout with goat cheese ravioli and brown butter sauce make shopping more bearable for my honey.  The crisp brown bits on the tender trout work beautifully with the tang of the goat cheese and the nutty rich goodness that is brown butter sauce.  Sweet red pepper slices, arugula and sliced artichoke hearts round out the dish.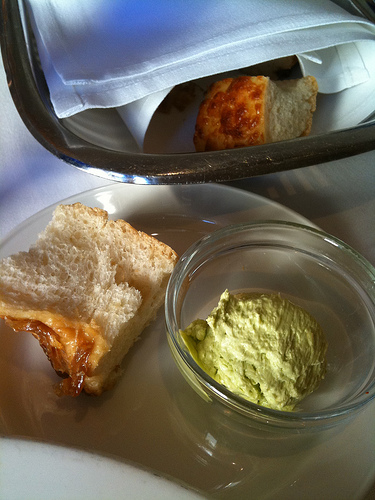 Bread topped with onions and served with basil butter
I could happily make a meal out of this soft fluffy bread slathered liberally with basil butter.  Soft, easily spreadable butter is a feature to me.  I love it.  This basil tinted butter was creamy, smooth and soft.  I don't understand restaurants that serve rock-hard butter.  Do they expect us to sit around letting the bread get cold as we wait patiently for the butter to reach room temperature?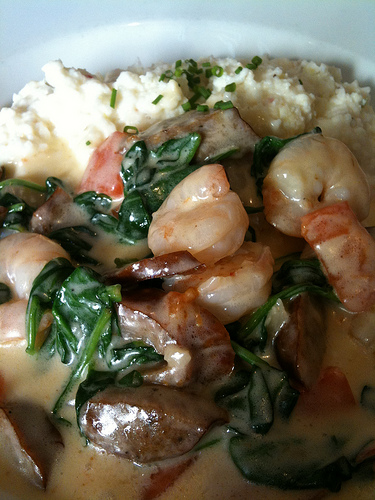 Shrimp & Grits
This dish was surprisingly good.  At first glance, I was disappointed to see a cream based sauce.  This thought instantly evaporated with the first taste.  This large bowl of shrimp, spicy andouille sausage, spinach and tomato was served with a heaping mound of perfectly creamy grits dotted with teeny tiny baby chives chopped finely.  I devoured every speck of the grits before giving the shrimp and sausage a second thought.
I rarely complain about the window dressing and decor at any given restaurant.  But, I must say it warrants a mention in this case.  Since our last visit (probably last year), the dining room has grown a bit disheveled.  When we saw the dingy menus (downright dirty, to be honest), we almost left without trying the bread basket.  We were hungry and gave them a shot.  I'm glad we did.  The food was quite enjoyable…   but, the surroundings need a serious polishing.  Seriously.
Prime
3393 Peachtree Road NorthEast
Atlanta, GA 30326
404 812 0555