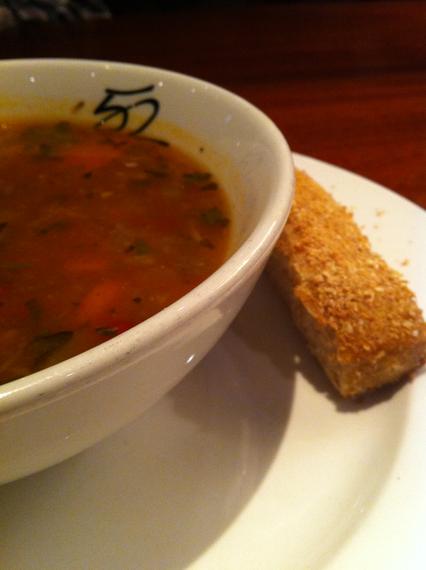 Hearty Vegetable Soup with Whole Grain Bread Stick
This tastes shockingly better than it looks.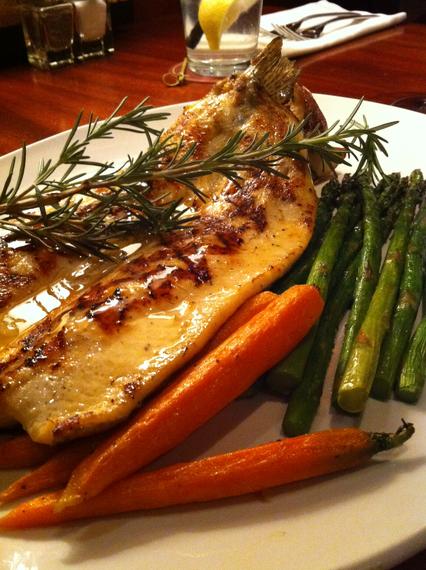 Grilled Rainbow Trout with Lemon, Carrots, Asparagus & Potatoes
Can you believe this huge plate overflowing with grilled rainbow trout, roasted carrots, asparagus, and potatoes has less than 475 calories?  Grilling the lemon half was a touch of genius.  We wish more restaurants did this.  We love the way it mellows the juice.  And, as an added bonus, the lemon is easier to squeeze.  With the exception of a touch of butter brushed on the trout, this is one incredibly healthy and delicious dinner.  As a matter of fact, we'd happily eat this every weekday night.
Since we were being so incredibly good, we didn't feel one bit guilty ordering a bottle of Rioja, Sierra Cantabria Crianza.  It was perfectly smooth, delicate, lightly fruity and entirely lovely.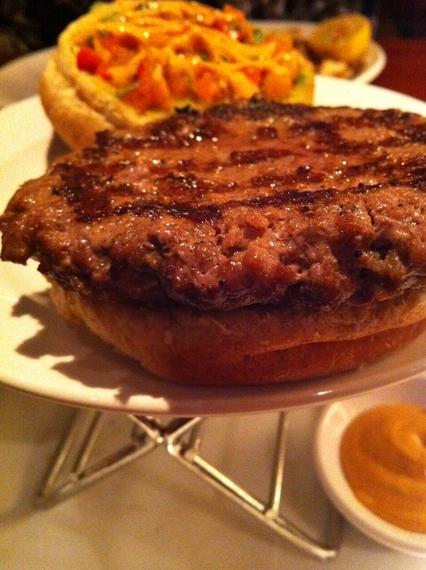 Buffalo Burger with Guac & Salsa
This was a nice, lean buffalo burger with decent flavor.  But, it won't be winning any "best of" awards.  The whole grain bun gave us the lowlight (opposite of highlight) of the meal.  It was accompanied by a pleasant (yet more than a bit boring) salad of mixed organic greens.
We'll be back for the grilled trout at Seasons 52… soon.
Seasons 52
90 Perimeter Center West
Dunwoody, GA 30346
770 671 0052