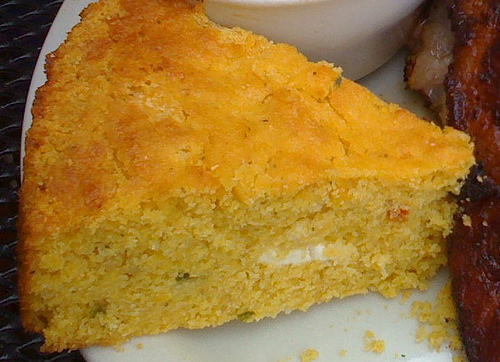 The Contenders:
Fox Bros. BBQ — (pictured above)  Their version is close to perfection in my book.  Dense, crumbly, just a hint of crispiness on the top and at the edge.  And, most importantly, full of corn flavor.  This is everything good cornbread strives to be.  Specks of jalapeno add surprising little bursts of flavor.  A dab of sweet butter accents the spice perfectly.  And, to gild the lily with their perfection, every wedge has been served perfectly warm and fresh from the oven.
Daddy D's — Their unique version has a cake-y flavor and delicate crumb.  The sweetness is quite apparent and a hint of vanilla adds delightfully to the comfort food appeal.  Always dished up in generous quantities, I could happily eat this alone for breakfast or lunch with a tiny drizzle of honey every day of my life.
Wyatt's BBQ — The definition of traditional cornbread is represented here.  Even if it is baked in a sheet pan, you'd never know it by flavor.  The crust is perfectly brown, crisp and buttery.  The interior is dense, crumbly and not at all sweet… as some say cornbread should be.  This cornbread is all about simplicity.  The finer things in life need no embellishments.
Have I missed any?