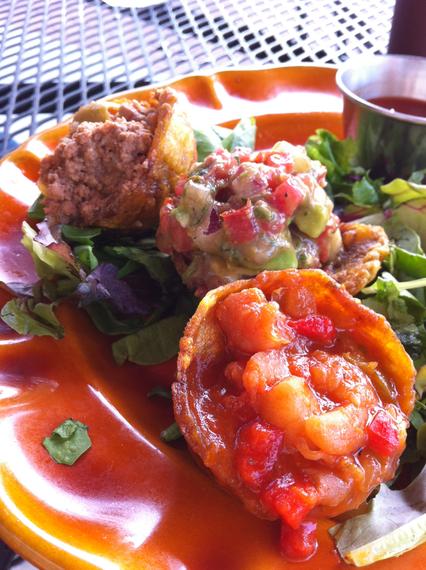 Fried Yuca Cups with 3 fillings
In order of preference… No. 1 avocado, No. 2 picadillo, and a distant 3rd place goes to the shrimp creole.  Next time, we'll get the avocado filling for all three.
Ending up here, somehow.  An unusual discovery was made.  Quite fitting, given the purpose of Paranormal Norcross's website.  If you need paranormal consultation in Norcross, they've got you covered!  In any event, we're glad for the discovery.  We were rewarded with a fabulous meal.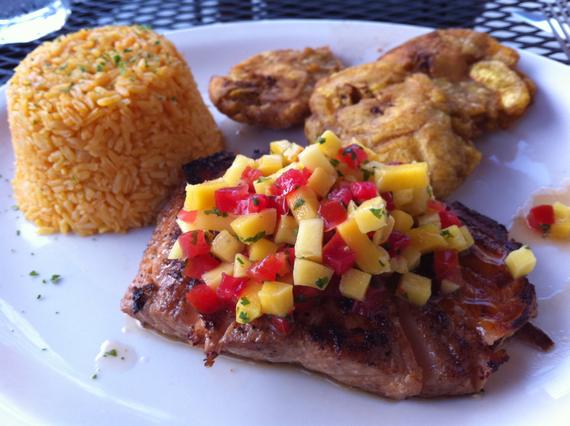 Glazed Salmon with mango salsa, yellow rice and tostones
This made a perfect summer dinner.  Perfectly grilled salmon with sweet and tangy mango salsa.  And, tostones… they might not be the prettiest thing in the world.  But, they sure are tasty.  I can predict we will be eating this again very, very soon.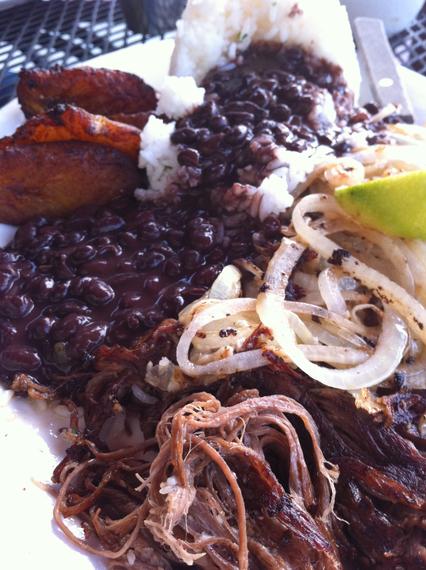 Vaca Frita, Maduros, Black Beans & Rice
Fried Cow.  Yum.  This dish is a bit heavy for summer.  But, it's one of our all-time favorite Cuban dishes when it's done properly.  So, we had to give it a try.  Slow-cooked beef is shredded and pan fried with onions.  Finish that off with a drizzle of lime.  Then, serve with the mandatory maduros, black beans, and rice.  This might not be the best version we've tasted.  But, it was very nicely done.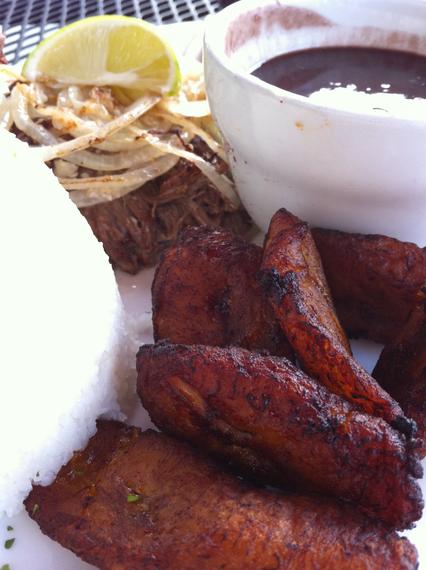 Maduros
Now, this is the way properly cooked maduros should look.  Hello, out there… Atlanta Area Restaurants!  I'm talking to you!  Properly cooked maduros should be made with ripe (RIPE) plantains and fried to a deep dark caramel brown.  Is it really that hard?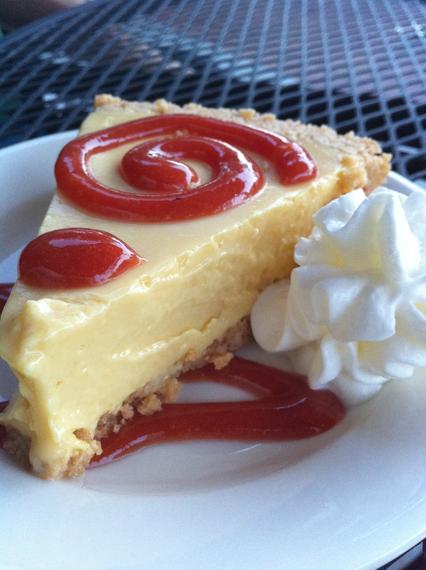 Mango Pie with guava swirls
I hate to be redundant.  But, yum.  It's sweet and a little tart with all of the added complexity that guava brings to the table.  It's the perfect summer dessert.
And, they have live music on the weekends.  I think we're really going to love this place.  Next time, we'll be trying the guava cheesecake.  That's even more motivation to return…soon.
Mojitos Cuban American Bistro
35 South Peachtree Street Northwest
Norcross, GA 30071
770 441 2599