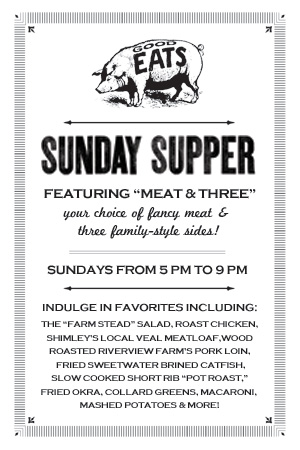 Family Style Sunday Supper
A basket of mini biscuits
Served with butter and vanilla apple butter
   Deviled egg
Sprinkled with herbs and drizzled with olive oil
Farmstand salad
Fresh greens, curly endive, sliced baby carrots, paper-thin fennel, fresh corn sliced right off the cob, green beans and sliced radish drizzled with a delicate vinaigrette.
The Meat
We chose:
(Sweetwater Brined) Fried Catfish
Wow!  This catfish was out-of-this-world GOOD!  While it's not what I would call a traditional version, our battered and fried catfish was almost unrecognizable as catfish.  The filet was huge.  The texture of the fish was delicate and flaky.  The sweetwater brining kept the filet moist and juicy, while the exterior was deliciously crisp.  I can easily say we both consider this the best fried catfish in Atlanta.  And, possibly the best fried catfish we've ever eaten.
Black Skillet Fried Chicken
This fried chicken stirred much debate at our table.  While, I personally wish to name it the best fried chicken in Atlanta, my honey still gives the nod to Busy Bee.  (I hate to disagree.  I've long been a fan of Busy Bee.  The incredible reliability and chronically perfect golden brown shell encasing moist, juicy chicken has kept it our favorite for 5  years… at least.)  But, JCT has risen to the top for me.  The quality of the chicken is unmistakable.  The deep rich chicken flavor speaks to that quality.  And, the crisp, well-seasoned coating adds even more flavor.  Combining superior crispness with light, the crisp breading has a delicate flake to it.   This delicate flaky yet still-crisp shell pushes it straight to the top for me.  And, then to gild the lily, they add a fine drizzle of honey.  Winner!  My new favorite!
Three Sides
We Chose:
Macaroni & Cheese
Smoky Benton's bacon, butter, and cheddar… insanely rich!
Squash Casserole
Breaded and fried slices of summer squash with a sprinkling of cheese
Collard Greens
Tender, yummy greens with a bit of smoked pork for flavor
Dessert
Chocolate Cake with chocolate buttercream
Delightfully light and fluffy, yet, rich with dark chocolate flavor.
Verdict:  We love Sunday Supper @ JCT!  (For $24 per person)
The Best Fried Catfish:  Unanimously, yes!
The Best Fried Chicken:  I vote yes!
JCT Kitchen & Bar
1198 Howell Mill Road, Suite 18
Atlanta, GA  30318
404 355 2252