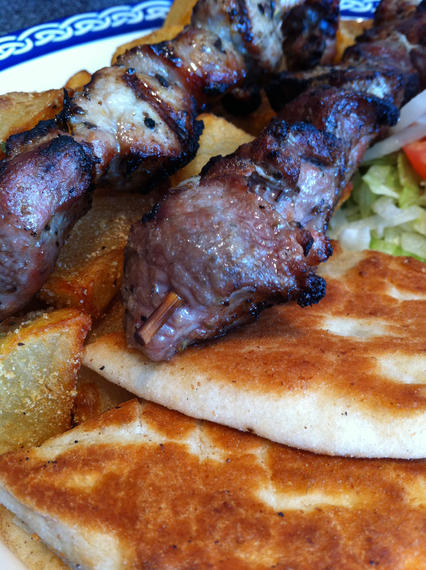 Souvlaki Platter
Easily the best thing on the menu, these tender pork kebabs have plenty of crispy bits.  And, the tzatziki sauce is oniony, herby and very yummy.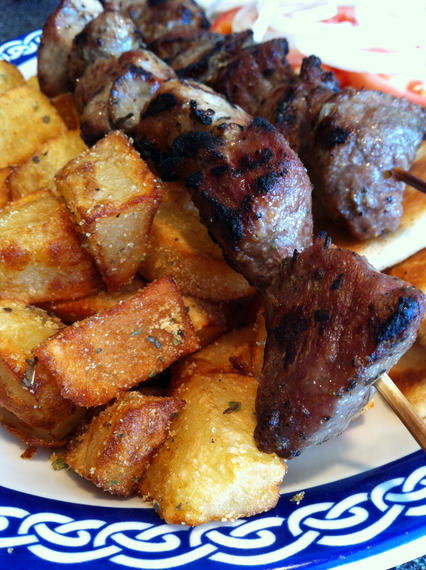 Served with Athens Potatoes, Tzatziki Sauce, Pita, Lettuce, Tomato & Onion
If you've ever gone to Emory (or lived in the Emory area for any length of time), chances are good that you've eaten at Athens Pizza.  It looks a bit like Epcot Theme Park spit out a Greek diner …more than a few years ago.  Murals coat the walls and flags of every nation fly sky high.  We've had a love/hate relationship with this place for over ten years.  (Hate Mostly)  But, over the years, this place has grown on us like that comfy pair of ugly shoes you just can't throw away.
And, it's hard to hold onto the hate when their staff is so very friendly.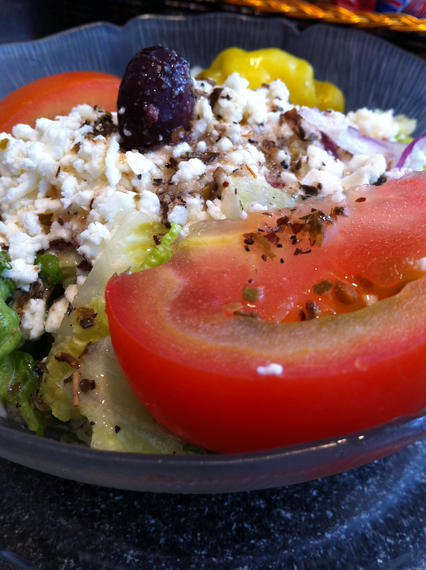 Jr. Greek Salad
Even the Jr. Greek Salads are loaded with feta.  Old school style, these salads are served with a basket of assorted crackers.  No, not house-made crackers brushed with herbs and olive oil like those fancy new spots around town.  No… think real old school… These crackers are wrapped in plastic like Saltines, Wheat Thins and Clubhouse.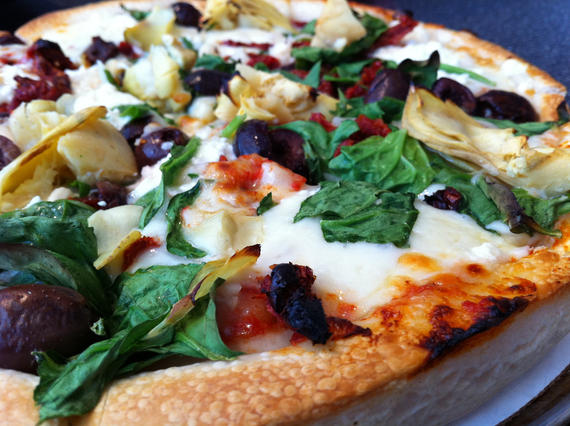 Santorini Special Pizza
(With Feta, Kalamata Olives, Sundried Tomatoes, Spinach, Garlic, & Artichoke Hearts)
Sadly, we've always hated the raw doughy-tasting crust at Athens Pizza.  But, these toppings make for a really nice Greek style pizza.  On a better crust, this would be a real winner.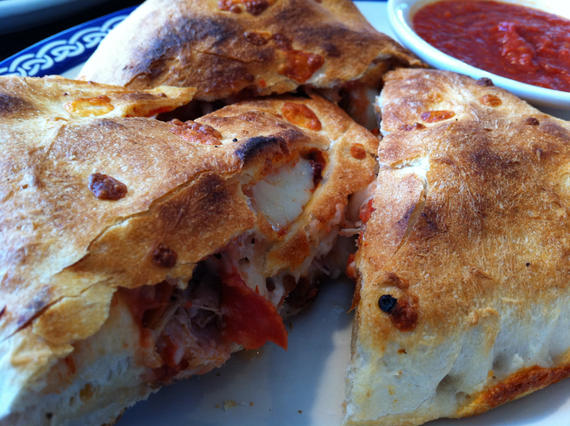 Sausage & Sundried Tomato Calzone
If it weren't for that doughy crust and sauce, we could like this …some day.  Give us a few more years.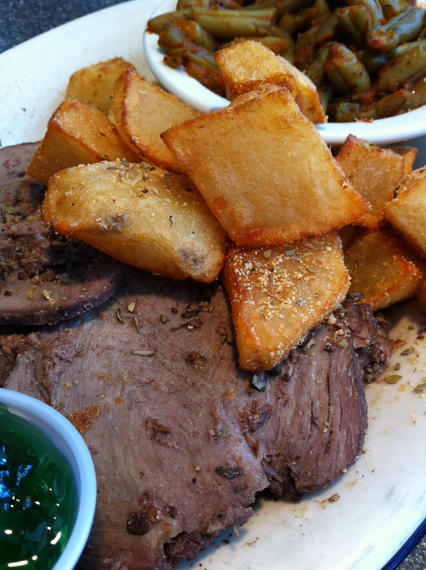 Oven Roasted Lamb
(With Athens Potatoes, Green Beans in Tomato Sauce, & Mint Jelly)
Simply put, this was a very well-done lamb pot roast Athens Pizza style.  This was a first for us.  Somehow, we've never ordered this before.  And, if it's always this well-done and salty, it's unlikely that we'll be ordering it any time soon.  But, we're sure to give it another chance …some day.
Athens Pizza
1341 Clairmont Road
Decatur, GA 30033
404 636 1100