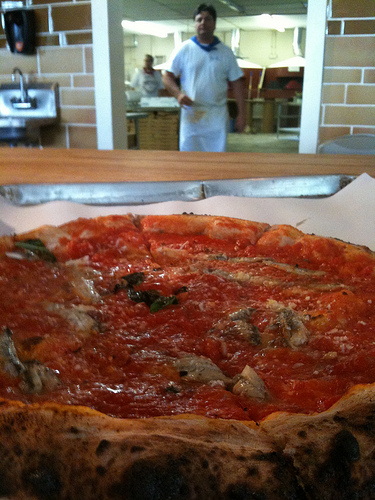 Marinara
This simple pizza with marinara and anchovies demonstrated the high quality of ingredients used at Antico.  Delicately sweet tomatoes melt beautifully into the dough, playing off the saltiness of the anchovies.  It's a beautiful thing.  And, these aren't just any old anchovies.  These white anchovies are supremely delicate & smooth.  The simplicity of this pie teeters close to perfection.  We love the thick rim of beautifully charred crust that holds a whispery hint of bitterness from the wood burning fire.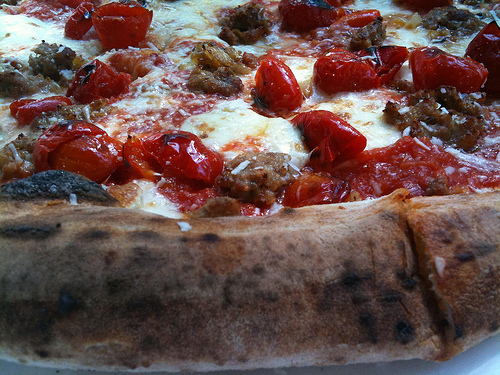 San Gennaro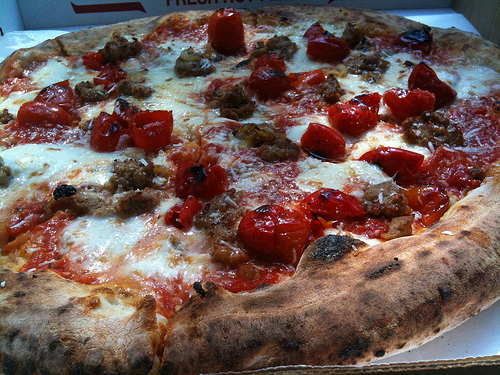 We first sampled the San Gennaro over a month ago, and it was definitely a case of love at first bite.  Once again, the quality of ingredients is evident.  Lush, sweet, & briny red peppers caramelize beautifully under the high heat fire.  And, rich bites of sausage add pure indulgence.  Divine!
We're having trouble sampling the other pies.  We intend to order a different pie on every visit.  But, we end up ordering the San Gennaro again and again.  We'll just have to keep trying.
Antico Pizza
1093 Hemphill Avenue
Atlanta, GA 30318
404 724 2333