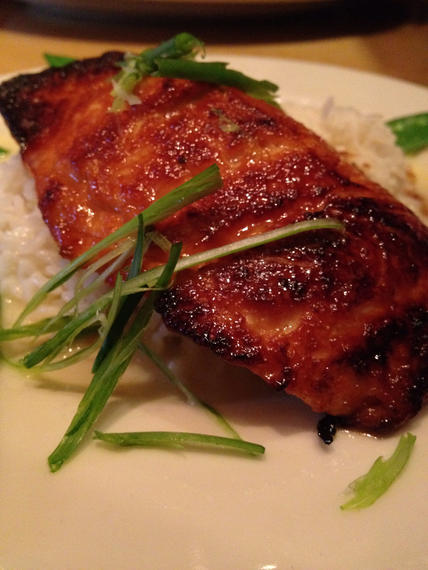 Miso Salmon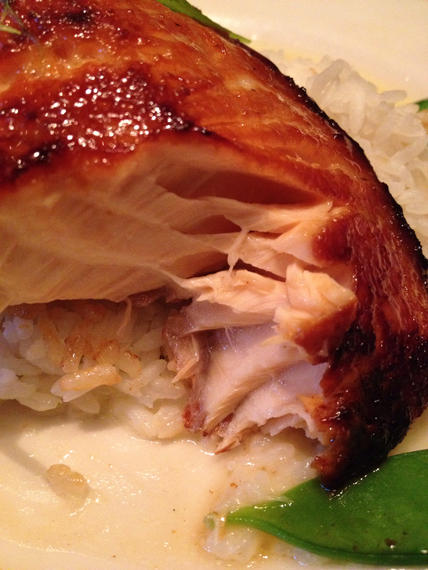 With Lemon Sauce And Snow Pea Garnish
Have you seen the 2009 video of Michael Ruhlman responding to Kelly Alexander's challenge to try the miso salmon at Cheesecake Factory?  We did. (Some time in late 2009) Then, we promptly forgot about it.
Skip forward to last week, we ended up at Cheesecake Factory.  One never really sets out to "go" to Cheesecake Factory.  You just end up there, right?  Well, we ended up there the other day.  So, we're paging through those sticky (Why are they so sticky??) laminated pages and we spot it.  The Miso Salmon.  That's it.  Decision made.  Michael Ruhlman ate it.  How bad could it be?
Answer:
It's really not that bad at all.
The salmon itself is quite tasty.  The flesh is moist, tender and flaky.  The lacquering of miso glaze (above) effectively holds in the juices.  The interesting balance of sweet, salty, and savory enhances the meaty salmon.  And, the rice is acceptable.  Now, what about that lemon sauce that Mr Ruhlman refers to as "insipid"?  He's being generous.  The sauce on our plate was oddly sweet …way too sweet.  The miso glaze provides more than enough sweetness to this salmon dish.  Why would you add another sweet sauce?  It's a mystery to both of us.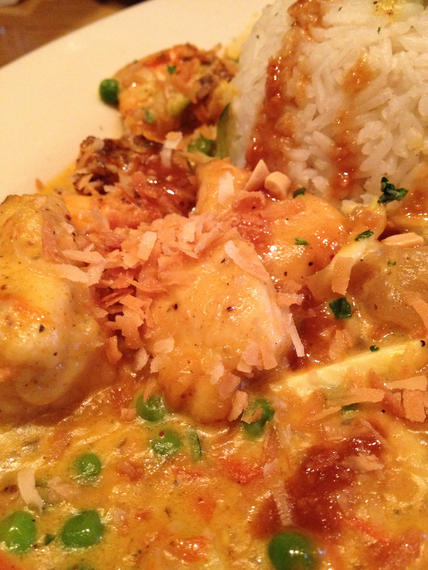 Bang Bang Chicken And Shrimp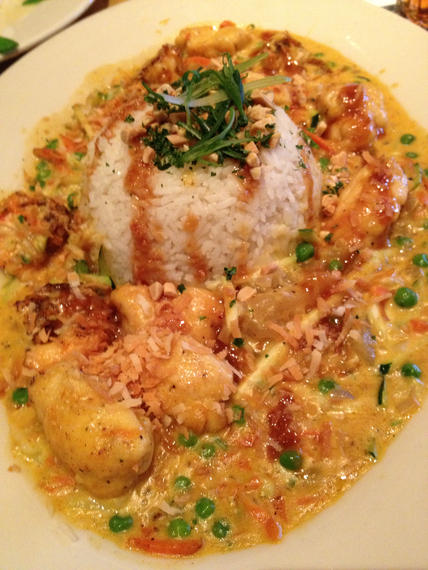 This is one rich, gloppy, sweet, crazy heavy, thick-sauced dish.  Are you training for a marathon?  This dish might be for you.  You know those rumors about 2,000 calorie meals?  Now, we're just guessing.  But, we think this might be one of them.  The curry sauce is heavy.  Couple that with a drizzle of peanut sauce, that's also sweet and heavy.  Then, toss some toasted coconut and crushed peanuts on top just for fun.  About five bites into this overtly Americanized curry extravaganza, it'll be nap time.