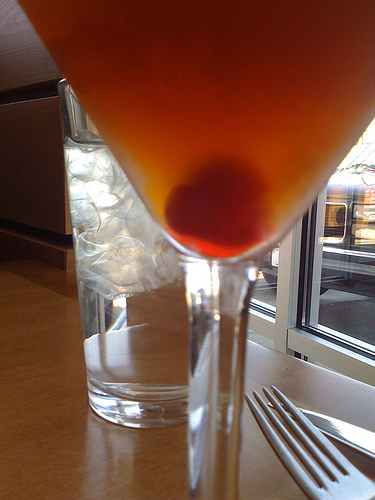 The Manhattan:  Redolent of sweet, smoky caramel… a hint of burnt caramel and smokiness from the Rye.  Rich, perfumy and smooth, this Manhattan is close to perfection… definitely one of the best Manhattans I've ever had the good fortune to taste.
Everyone has been raving about the burgers, but, why hasn't anyone been raving about this cocktail??  Have they been distracted by the burgers and shakes?
I doubt I'll be able to return without sampling this lovely cocktail on each visit.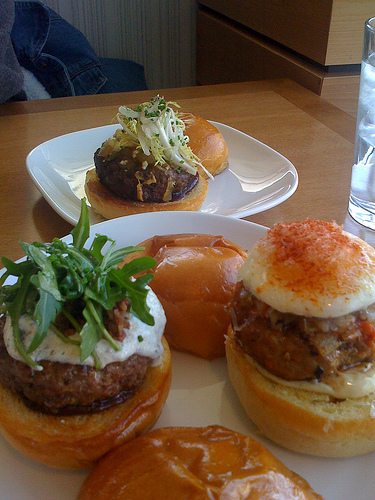 The Burgers:  Predictably great, perfectly cooked and beautifully garnished, on this visit we sampled the Chorizo, the Lamburger, and the Butcher's Cut.
Chorizo — Out of this world… there's no other way to say it.  This burger is so good it transports you to another time and place.  Instantly you smell the delicate smoke, then you taste.   And, the taste of smoky pork, toasted cumin and paprika work their way into your senses.  Never overwhelming, the flavors compliment and layer each other… finally mellowed by the sweet onion and creamy egg  yolk.  Perfection on a bun…  Seriously!
Lamburger — Perfectly fresh… the bright splash of lemon in the cucumber yogurt sauce makes it the perfect topping.  Incredibly rich and meaty, the lamb needs a bit of refreshing lightness in the form of the cucumber yogurt sauce to cut the richness.  And, the zing of the olive relish adds a delightful pop of flavor.  This burger almost ties with the Chorizo for first place.  But, the amazing layers of flavor keep the Chorizo ahead by a nose.
Butcher's Cut — A really great burger… a classic burger with the flavors turned up a notch.  Sweet caramel onions, blue cheese and red wine jam… what more could you ask for?  YuM!
Stars of the Day:  Mmm… Manhattan!!  Honestly, I could have been happy with just this perfect cocktail.  But, the Chorizo Burger and Lamburger will be what's for dinner when we're dining at Flip!  …Except for next time.
Next time:  The Kobe Burger!
FLIP Burger Boutique
1587 Howell Mill Road
Atlanta, GA 30318