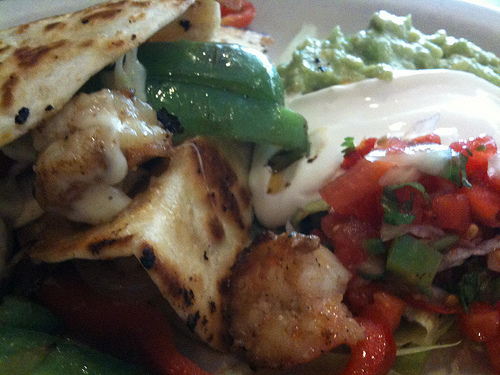 Shrimp Quesadillas
While we've been dining at Taqueria Los Hermanos for years, the shrimp quesadillas find their way to our table on at least half of the visits.  The shrimp are tender, well-seasoned, and crispy golden brown at the edges.
Originally, the guacamole was little more than mashed avocados (just the way I like it).  Now, they're adding a hefty dose of tomato.  I'm not a fan of tomatoes for my guac.  But, it's always perfectly fresh and we still order it on almost every visit.
If it wasn't such a decadent sugar bomb, we'd order the tres leches cake topped with fruit on every visit, too.  Luckily, the fear of being rolled out the door like the blue girl in Willy Wonka keeps us in check.
Taqueria Los Hermanos
4418 Hugh Howell Road
Tucker, GA
678 937 0660