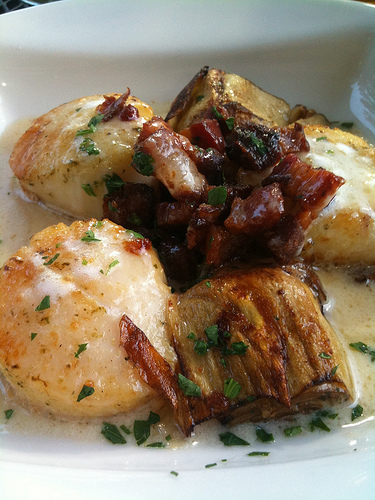 Scallops, Artichokes & Crispy Pancetta
The area surrounding Mall of Georgia is a dead zone for restaurants.  So, in a moment of hungry desperation, we decided to give Luciano's a chance.  And, we're glad we did.  With an interesting 80's white on white meets Abercrombie interior, we weren't sure what to expect.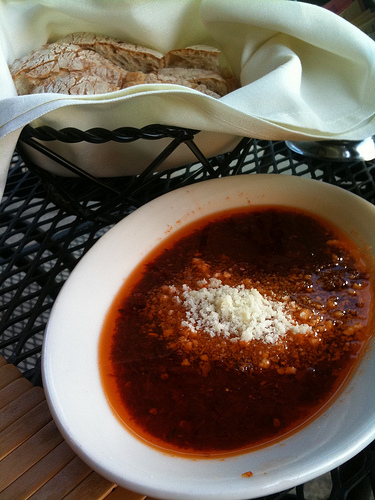 The bread basket served with a sun-dried tomato, herb and cheese doused olive oil was a nice start to the meal.  Comforting, hearty, and a little old-fashioned… we loved it.
Then, we started with the Scallops & Artichokes (shown above).  We happily devoured every bite.  The lemon butter sauce was delicate and lovely.  Each scallop was nicely caramelized.  The artichokes had a touch of crispness to the edges…  yummy.  And, the crispy bits of pancetta added even more texture and good bite of salt.  This was our favorite dish.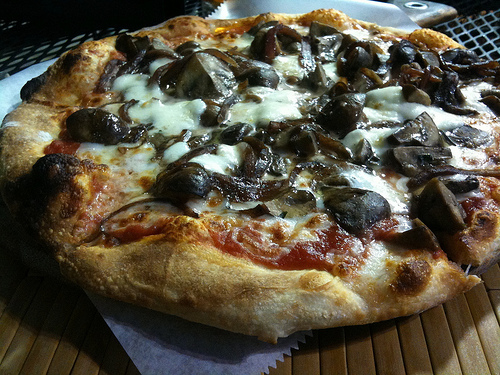 Mixed Mushrooms, Caramelized Onion & Truffle Oil Pizza
While the crust is a bit too soft & doughy to make this a real contender, it's still one solid pie.  The balance of mushrooms and onions was pleasant.  And, the truffle oil was used appropriately.  Adding another layer of flavor, the woodsy complexity added depth without overpowering the pizza.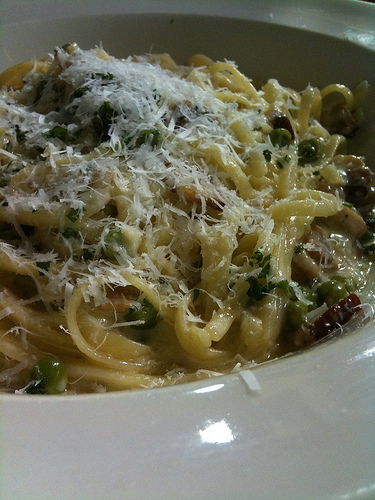 Linguine Carbonara
This dish was fine, but, nothing to write home about.  To quote my honey,  "Yours is better."  (He's a very smart boy.)  It was our least favorite (and most forgetable) dish.
We also enjoyed a slice of ricotta cheesecake drizzled with real caramel sauce.  The light touch of lemon was refreshing against the deep dark caramel flavor.  This is something we will be back to try next time we're in the neighborhood… whenever that might be.  I think it's safe to say that this is one of the better restaurants in the Mall of Georgia neighborhood.
Luciano's Ristorante Italiano
6555 Sugarloaf Parkway
Duluth, GA  30097
770 255 1727