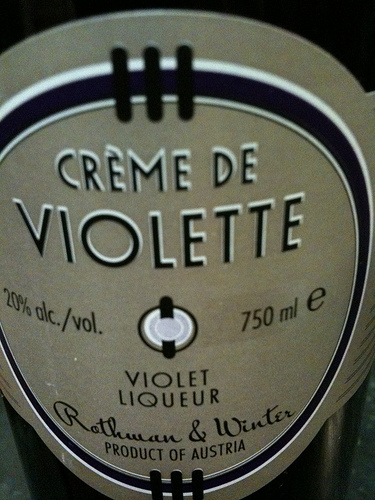 Creme de Violette
As a fan of old movies, the first scent out of the bottle brought back memories of my introduction and appreciation of classic cinema.  In my teens, I had zero appreciation.  The lack of color, hokey accents and magnified personalities were laughable to me.  But, over the years, I've come to appreciate classic cinema.  It transports us to a different time.  A time that we will never know.  But, we are granted glimpses into the past through cinema.  A heightened, idealized version of the past… but, a version nonetheless.
Creme de Violette is a blast from the past.  I can envision a time when this liqueur might have graced the shelves of every well-kept bar.  A time when ladies of the past might have enjoyed cocktails laced with the sweet flowery scent of a perfume that once held favor.
Now, the art of crafting cocktails has re-emerged as an important element in dining and entertaining.  Creme de Violette will fill a niche in a well-stocked bar.  Straight out of the bottle it is overwhelming.  Incredibly sweet and flowery,  you can't help thinking its edible perfume.  But, used sparingly, this can add lovely elements to a cocktail.  And, I can imagine any number of uses in the kitchen.  Baking, preserving, and candy-making are a few that spring instantly to mind.  Tonight, we'll be trying The Toulouse.  Vodka, vanilla and a hint of violet…  I'm very optimistic.
The Toulouse
adapted from Haus Alpenz website (see link below)
1 1/2 oz Vodka
3/4 oz Creme de Violette (we'll be using much less… maybe 2 tsp)
1/2 oz Vanilla Vodka
1 tsp  Absinthe
ice
Combine all ingredients in a shaker.   Shake.  Pour into a martini glass and garnish with a skewer of fresh blueberries that you've frozen.
Check out this website for more cocktails using Creme de Violette:  www.alpenz.com