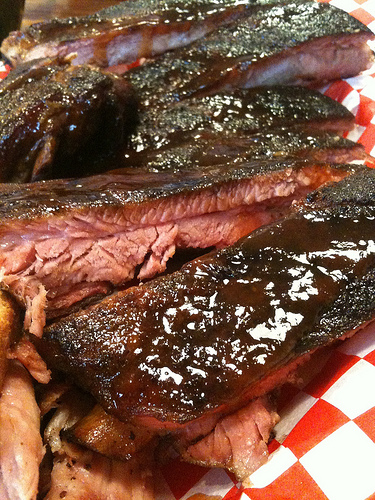 St Louis cut ribs and pulled pork
Now open for about two weeks, Smokin J's dished up this well-prepared plate of St Louis cut ribs and pulled pork.  The ribs were a gorgeous shade of pink.  They had a great smoky flavor made even better by the carefully charred exterior.  The pulled pork was exceptionally tender.  We did notice less char on the pork, but, condsidering the buttery tenderness, we didn't mind the lack of crispy char (bark).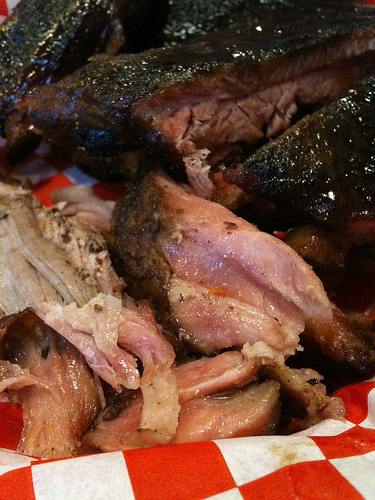 You can see the extremely moist & tender pulled pork chunks. (above) We enjoyed tearing up the large chunks of pork.  I believe the large-sized chunks helped to maintain the buttery tenderness.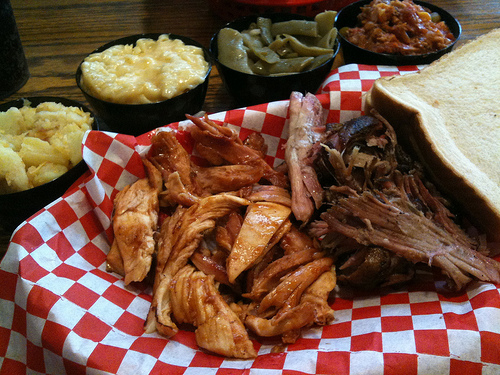 This plate of pulled chicken and pork demonstrates again the large chunks of meat.  The chicken was melt-in-the-mouth tender.  We really enjoyed the tender hunks of chicken as much as the pork.  And, I'd have to say that's quite a feat.  Usually, the pork always outshines the chicken.
There were several noteworthy sides.  The pineapple express (a casserole of pineapple chunks and shredded cheddar baked into a caky batter) was a pleasant jolt of sweet against all the smoky meat.  And, the mac & cheese was extremely rich, creamy and cheesy.   The above photo doesn't do it justice.  It appears to be drowning in sauce.  But, it's almost pure cheese.  Heavy in cheddar and mozzarella, we both loved it.  Even if it was deadly rich, we were playfully fighting over the last bite.
It's hard to believe they've been open just over two weeks.  They're dishing up quality bbq.  I hope they can maintain this level of quality.  We'll be adding Smokin J's to our bbq restaurant rotation list.  Thanks to Thrillist Atlanta for the tip.
Smokin J's BBQ
2145 Roswell Road
Marietta, GA 30062
770 973 1003