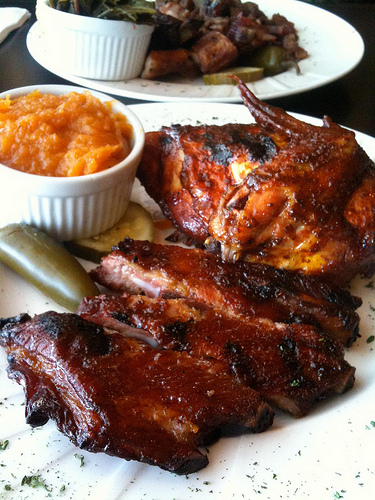 Chicken & Ribs Combo with Sweet Potato Casserole
We've had dozens of great meals at KC Pit (old location).  Sadly, this is the first visit I would label as a disappointment.  I'll be the first to admit that we did arrive at an off time (well after 2pm for lunch).  But, both chicken and ribs were luke warm and predominantly dry.  The rib on the end was tettering into jerky territory.  The interior rib was just "ok".
The sweet potato casserole always reminds me of sweet potato pie filling.  I mean this in a very good way.  I treat it as a dessert.  But, I miss the days when each platter was accompanied by two sides.  Now, I'm forced to choose between collards OR sweet potato with a $17 combination platter.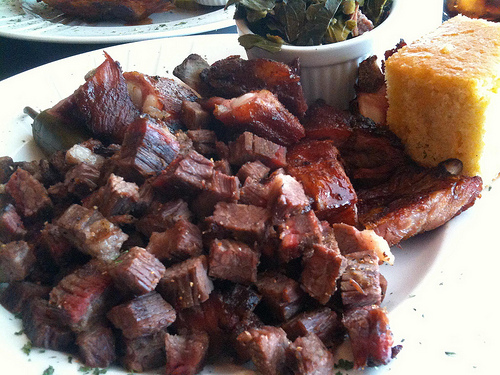 Burnt Endz & Ribs with Collards
This was more of the same.  Both ribs and burnt endz were a bit past their prime.  Since this is the first time we've ever been disappointed by KC Pit, we'll write this off as bad luck… this time.  But, with high quality Que all over town, this isn't the sort of meal that has us craving a return visit any time soon.  This makes us quite sad.  We remember a time when KC Pit had some of the best barbecued chicken in town.
KC Pit BBQ
6317 Roswell Road, NE
Sandy Springs, GA 30328
404 459  6497