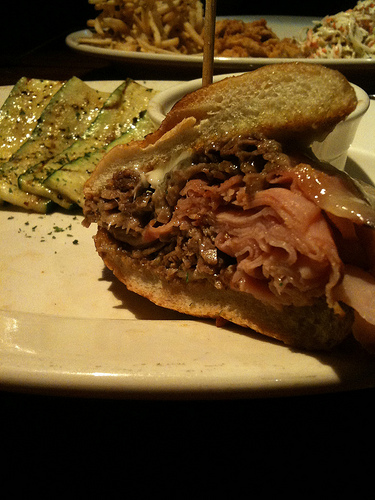 Sandwich Special  AKA  The Ferdinand Sandwich
This is one great (and huge) sandwich.  Thinly sliced prime rib, ham, cheese (Swiss, I think, it was completely melted from a few minutes under the broiler.) and thousand island-style sandwich dressing.  Next time, I'd definitely ask for the sandwich without the dressing.  It's rich enough without it.  And, I prefer the brown gravy served on the side.  The gravy was a bit too salty, but, I still couldn't stop dipping my sandwich into it.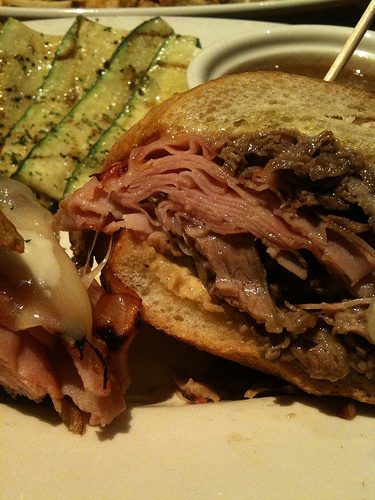 The trip under the broiler caused the prime rib to be on the well side of done.  Next time, we'll try ordering the prime rib rare.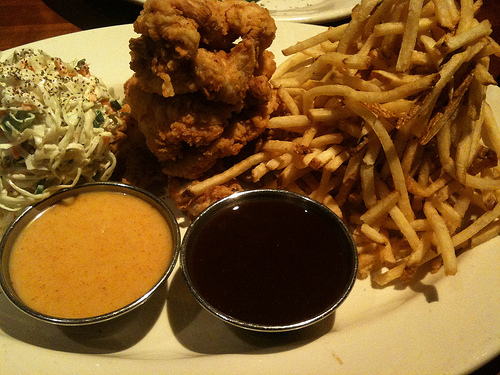 Mountains of Fries & Fried Chicken Tenders
Both fries and chicken breast pieces were nicely fried.  We ignored the bbq sauce and honey mustard in favor of the brown gravy from the other dish.  When dipped in the brown gravy, it was reminiscent of "chicken fried chicken".  I can't remember enjoying fried chicken strips this much… ever.
J Alexander's
4701 Ashford Dunwoody Road
Atlanta, GA 30338
770 512 0153