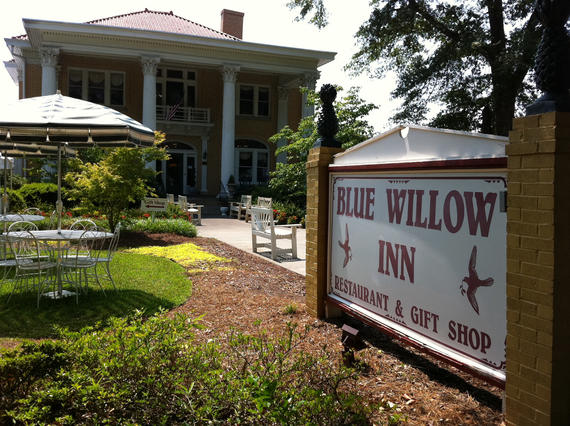 Blue Willow Inn
The front lawn is littered with tables topped with striped umbrellas and the front walk is lined with benches for lingering.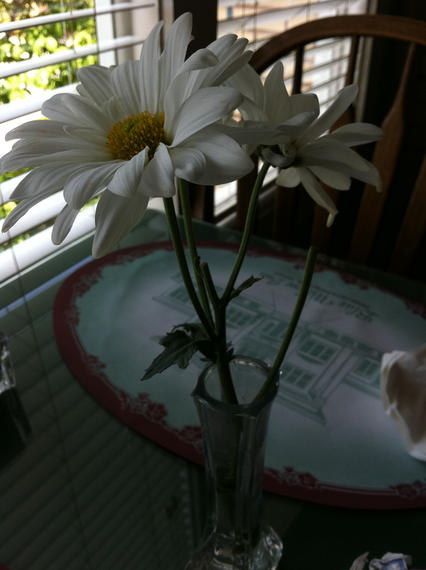 Daisies Grace the Table
What to drink?
Sweet tea, of course.
Oh, you have homemade lemonade.  That would be lovely.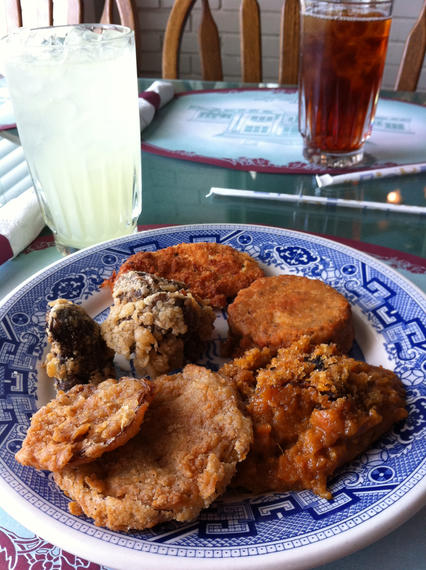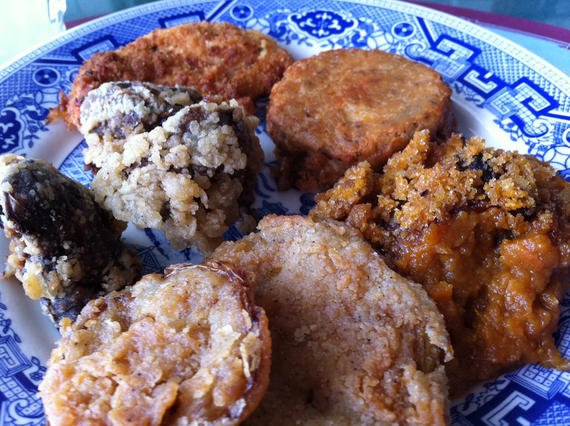 Fried Green Tomatoes, Sweet Potato Casserole, Salmon Cake, Parmesan Chicken & Fried Chicken Livers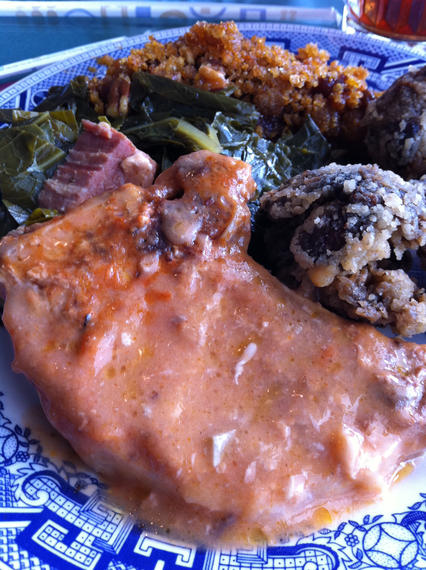 Smothered Pork Chop & Collard Greens with more Chicken Livers & Sweet Potato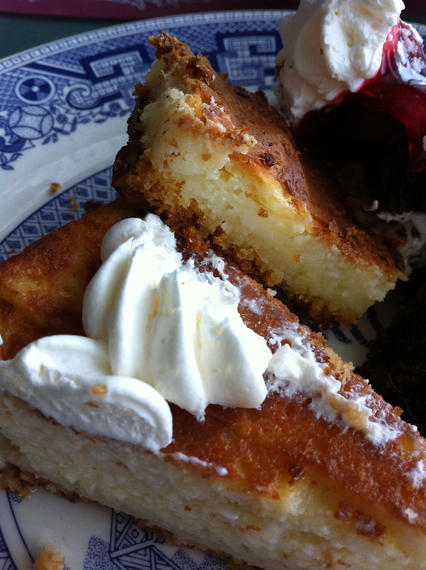 Custard Pie, Blue Willow Squares, & A Fruity Trifle
Ask about the Blue Willow Inn Squares and they'll happily try to sell you a cookbook.  Buy the cookbook and it'll tell you that those yummy little squares are also called Park Avenue Squares.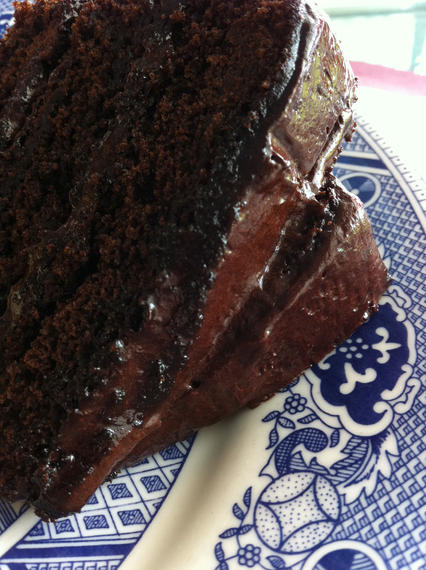 Slivers of Chocolate Cake
We weren't being greedy.  Those slivers of chocolate cake were super-thin… really.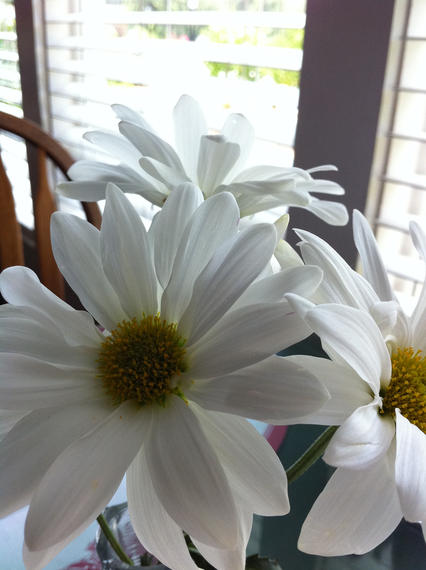 Who doesn't love daisies?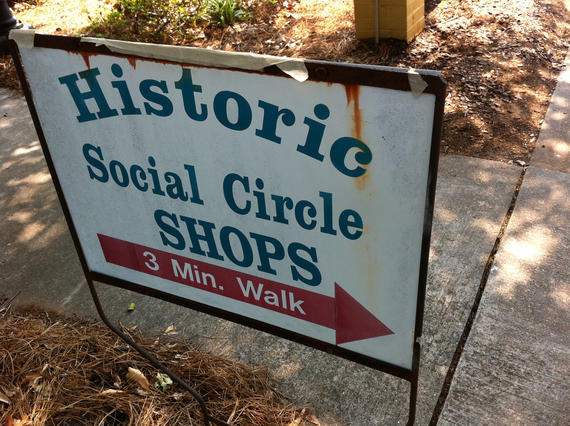 Time For A Walk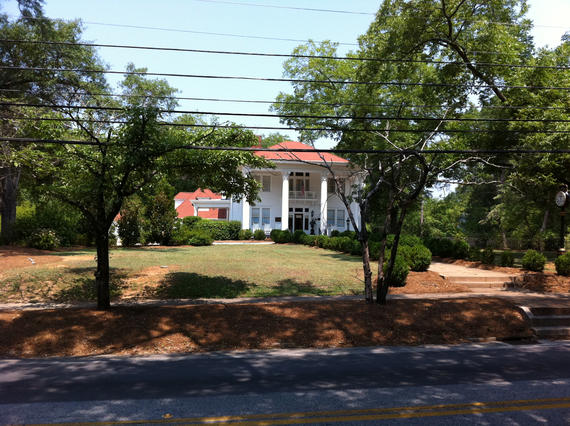 A Glance Across The Street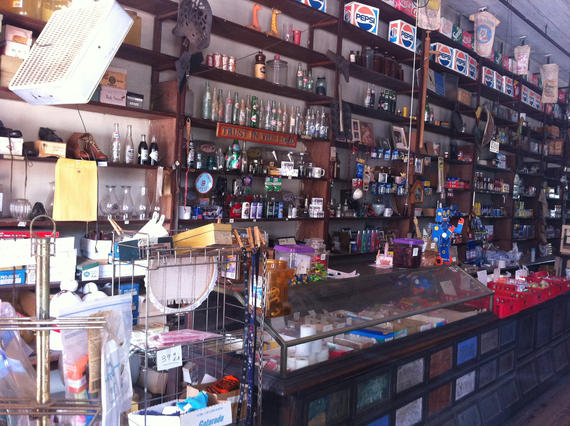 This old general store was closed.
We couldn't help peeking in the windows.  We spotted an assortment of sundries cluttering the shelves.  Everything from shampoo and deodorant to vintage coca cola and pepsi bottles, the past and present mingle together in silent harmony.  There's a story to be told here.  And, this isn't the only unusual shop on the street that's inviting us to come in and listen.
Most of the shops on this street were closed.  But, there's still an antique shop or two, an art gallery, a Mexican restaurant and an attorney's office under construction.  This charming little town is trying to survive on the tourist traffic generated by Blue Willow Inn.  But, there's more to see here than the Blue Willow Inn.  There's a quiet town oozing with charm, nearby sunflower farms, plenty of farm fresh peaches to buy and people to meet.  This little town has a story to tell. We owe it to them to listen.  We owe it to small towns… everywhere.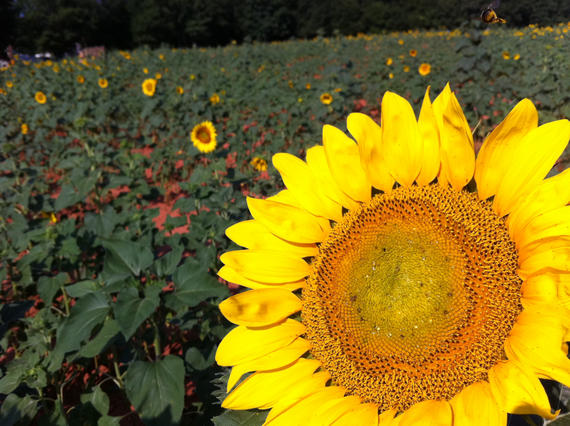 There's beauty out there waiting to be discovered.
Blue Willow Inn Restaurant
294 North Cherokee Road
(GA Highway 11)
Social Circle, GA 30025
770 464 2131