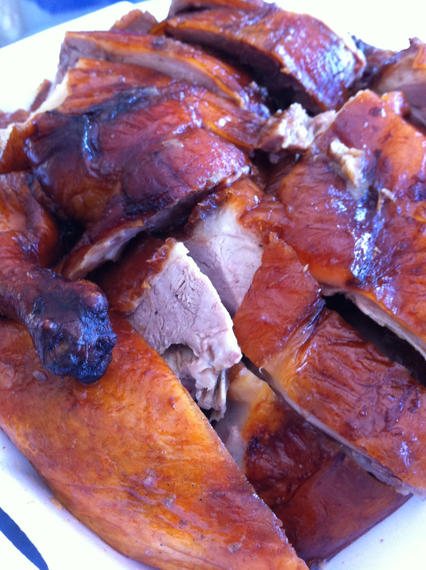 $15.99 Roasted Whole Duck
Normally, we reserve visits to Hoa Binh for the quick staple pantry item runs.  The years have not been kind to this little Asian market.  The age and tarnish of many hard years clearly touch this place.  But, this old standby has a few tricks left up its sleeve.
On our most recent visit, we wandered in as string of freshly roasted duck were being hung.  The savory scent of roast duck and five spice hung in the air.  It was too much to resist.  For $15.99, we left happily with one whole roasted duck and a couple little condiment cups of jus.  We drove home and dug into our little impromptu feast.  The duck was perfectly crisp, tender, juicy and still warm from the oven.  Jackpot!  Leftover pieces of duck were tossed into a home-made "fried rice" for lunch the next day.  We were amazed.  Those leftover pieces of duck were almost equally tender on the second day.
If you're willing to look beyond the weather beaten path that age has worn into the fabric of this market, it has a number of treasures to offer.
Hoa Binh Market
#116
4897 Buford Highway
Chamblee, GA 30341
770 457 3383