No, that's not bbq'd pork.  It's roasted pork.
This pork was roasted so perfectly tender that it was possible to pull into succulent threads.  Those threads were then tossed in a gravy made of the pan drippings.  Topped with a buttery biscuit, this was home style decadence.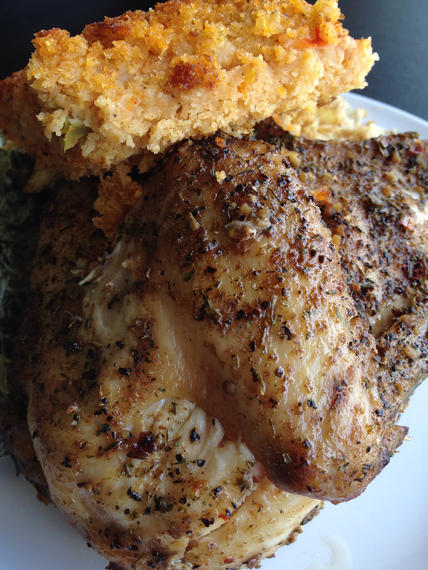 Roasted Chicken With Lemon And Spice Rub
Without a doubt, this was the best chicken breast to ever come out of a cafeteria tray.  The skin was touched with color and a healthy dose of spice added to the party.  The chicken was topped with a big chunk of spicy (not really, but, still quite good) cornbread and enough veggies on the side to feed two hungry adults.  For less than $10 each, we each had our own meat & two feast.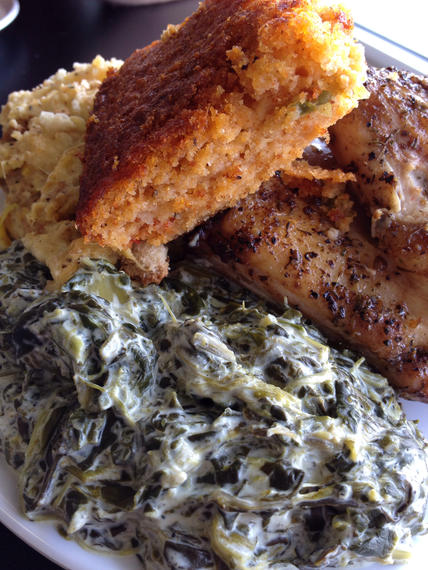 Rich & Creamy Spinach With Squash Casserole Hidden In Back
We'd hazard a guess that both of these vegetable dishes were better than most home made versions.  And, that's not a statement we'd make lightly.  We've both had many versions of each one of these dishes.  Nine times out of ten, they're loose and runny.  Here, both dishes were supremely rich and creamy.  This is comfort food to remember.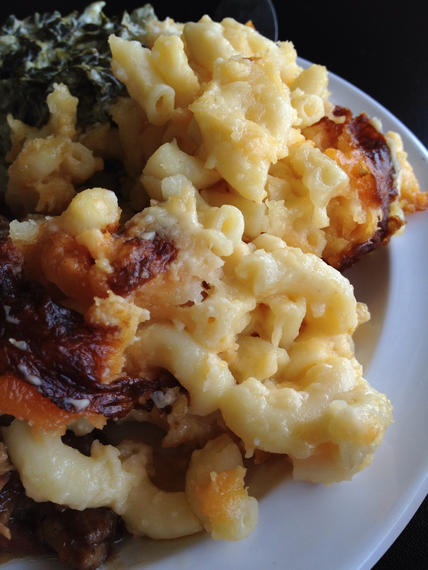 Mac & Cheese
Last, but not least, this macaroni and cheese instigated a statement never heard before.
"It might just be as good as yours."
"Excuse me.?", she said
(Note the use of the word might as he tested the waters.)
But, he was right.  It might be.
This macaroni and cheese was creamy and custardy without being too heavy or greasy.  Topped with a golden brown shell of crispy cheese, this was one fine version of the dish.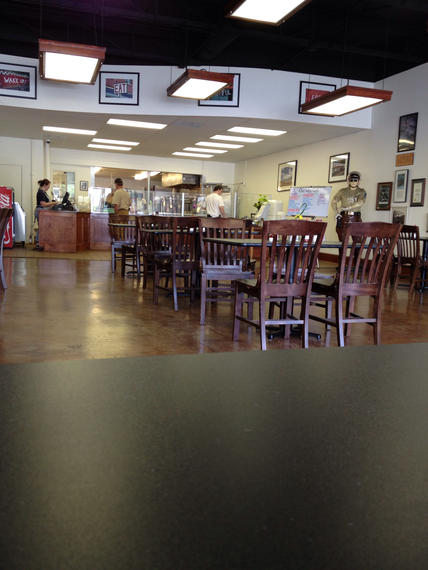 With every dish in the place ranging from $2 to $3 dollars, don't be afraid of the cafeteria style set up.  This place dishes up some mighty fine Southern style comfort food.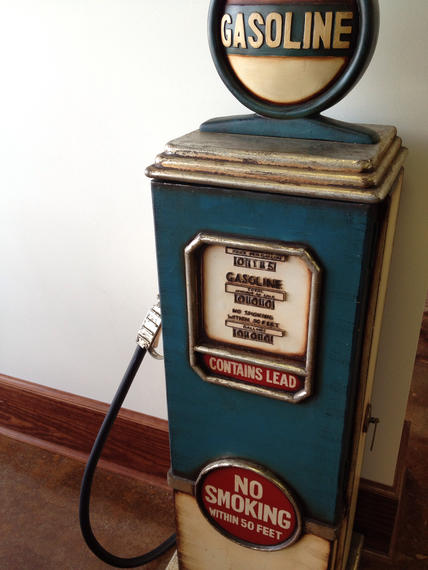 Hours:
Monday thru Friday — 11am until 8pm
Psst…  don't forget to check the website or call about daily special.  The menu changes daily.
Eva's Our Way Cafe
2831 East College Avenue
Decatur, GA 30030
404 292 9356