The Contenders: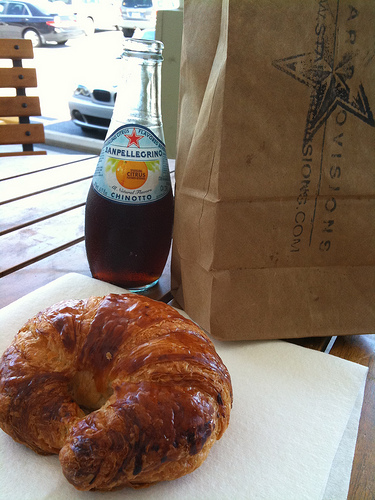 The current frontrunner — Star Provisions
Perfectly delicate flakes surrender to your bite.   The rich full-flavored dough edges out the competition with its buttery goodness.  The sweet butter flavor is clearly present, but, in no way overwhelming or overpowering.   The butter has a sweet mellow flavor.  This compliments and enhances the dough.  And, the interior is moist with just a bit of chew for texture.  But, no almond croissant!  Seriously??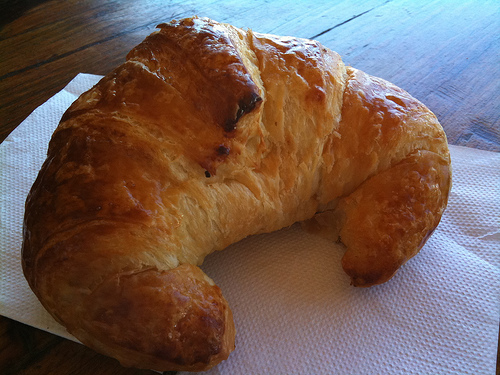 Alon's
Making the race incredibly tight, Alon's offers a near-equal offering with lovely delicate flakes, a hint of crunch to the flaky outer layers,  rich flavor, and perfect interior.  The one difference that puts Alon's in second… the butter seems to be a bit more sharp in flavor.  The butter flavor seems to compete more with the dough.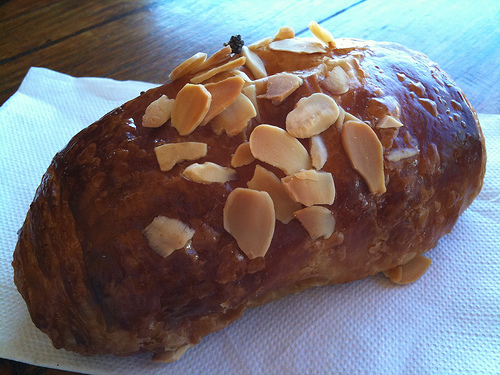 But, then again, they offer my favorite almond croissant in the city.  Insanely rich and intense almond flavor baked into the croissant and sliced almonds toasted to perfection generously top the croissant.  I love the way the deep toasty flavor imparted by the sliced almond on top add another layer of flavor to the marzipan filling.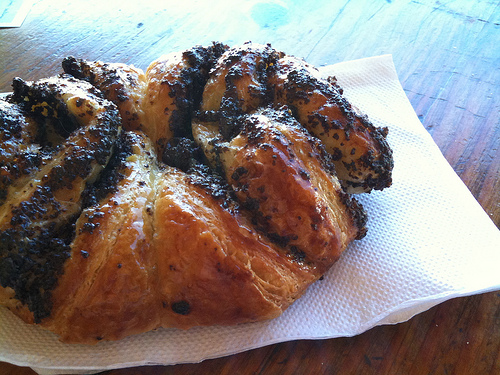 Bonus Points for offering a ridiculously rich poppyseed danish
And, even more bonus points for being the only bakery capable of stocking enough croissants and pastries that they are available after noon on the weekends.
Parish
Sadly, inconsistency took Parish out of the race.  We attempted to purchase croissants for side-by-side comparisons on 5 separate occasions.  We were unable to purchase croissants at Parish 3 out of 5 times.  On one occasion, the only croissants available were ham & cheese.  And, they appeared to be dark brown/borderline burnt… not suitable for comparison.  On the other occasion we were able to buy one (the last) chocolate almond croissant.  Parish's original almond croissant offered an almond filling baked in (far superior).  The new version offers a  sliced chocolate croissant schmeared with almond paste.  I'm not fond of the taste or texture of this new version.  And, the almond paste ruined the interior texture of the croissant.  Another flaw, the texture of the croissant's exterior was soft.  There was a total lack of crisp flaky outer layers.
If you attempt to buy croissants from Parish after 10:30am on the weekend, availability is seriously random.
Best Croissant in Atlanta:  Currently Star Provisions edges out Alon's by less than a nose.  But, Alon's easily offers the best almond croissant in the city.  And, Alon's offers incredible consistency & reliability.  The best croissant is the one you can buy EVERY time you want one.  Alon's offers a sure thing.  Are you willing to gamble with your time on Saturday morning?