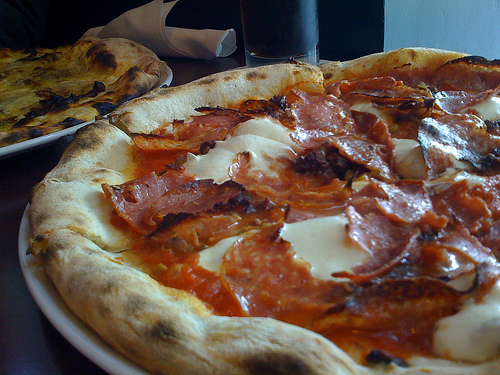 Salumi Pizza with Caramelized Onion Pizza in background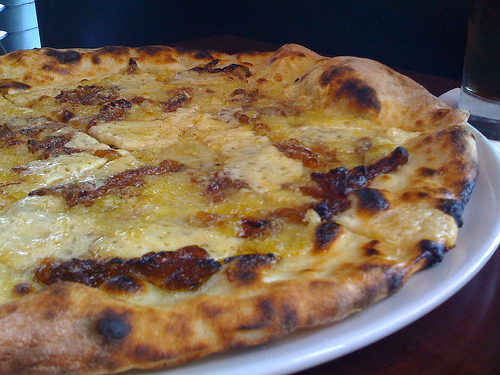 Caramelized Onion & Emmenthaler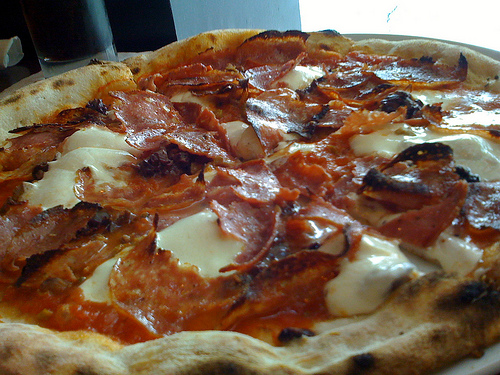 Salumi, Mozzarella & Spiced Olive
The Setting:  This glass fronted restaurant bordering Peachtree Road hasn't put up a sign, but, there are a handful of V's along the front sidewalk railing.  And, the valet parking sign directs you in.
The Staff:  Friendly and attentive
The Food:  On our first visit, we enjoyed both pizzas.  The crust was beautifully charred and perfectly crisp.  Not only was the crust charred to perfection, but, the bottom of the pizza was dotted with crisp paper-thin bubbles that were nicely charred in some spots and a gorgeous dark golden brown in others.  While quite thin in the middle of the pie, the pizza has a generous rim of crisp-yet-chewy, flavorful crust.
Salumi —  Thinly sliced cured meat with chunks of olives and mozzarella top this pizza.  The sweetness of the tomato sauce, the tart acidity of the olives and the hearty cured meat work beautifully together.
Caramelized Onion — Simply perfect.  This combination of two ingredients are genius.  Rich and creamy Emmenthaler make a base for perfectly caramelized onions that are deep, dark brown.  The magic of this pizza comes from the finely grated bits of Emmenthaler that crisp and bake into the crust in the ultra-hot pizza oven. YUM!!
Star of the Day:  Varasano's!!  This first visit will have us returning… soon!!
Varasano's
2171 Peachtree Road
Atlanta, GA 30309