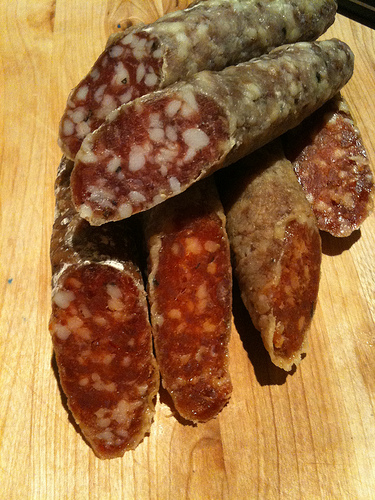 3 varieties of Pine Street Market's salami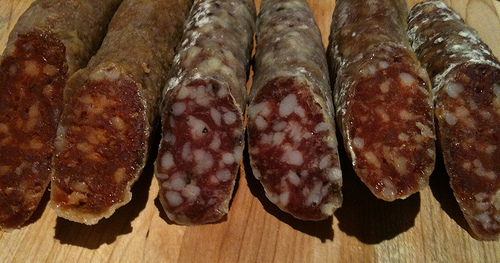 Chorizo Salami, Picnic Salami & Petit Paprika Salami (left to right)
Picnic Salami
Whole peppercors add the spice to this basic salami with some garlic.
Chorizo
Rich with paprika, garlic  and some spice,  we'd love even more heat.
Paprika
A hint of bitterness from the high content of paprika and wine provide interest.
While the Chorizo and Picnic Salamis were our favorite, they all exceeded our expectations.  As with all salami, the fat content is high.  So, we enjoy the small sizes that work well on a cheese platter.  Our only criticism… we'd love to see more heat.  We both have memories of the chorizo and picnic salamis being spicier when sampled on site at the market.  And, we'd love to see that heat in our next purchase.  With the picnic salami, it's easy to see how one particular salami could end up with fewer peppercorns.  I hope we're luckier next time.
Pine Street Market
4A Pine Street
Avondale Estates, GA 30002
404 296 9672