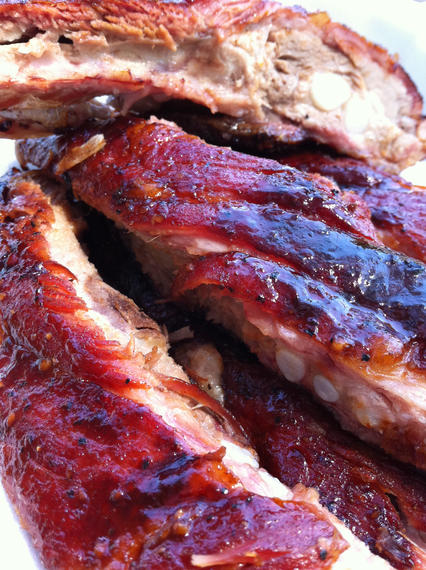 BBQ Ribs
(FRI & SAT ONLY!)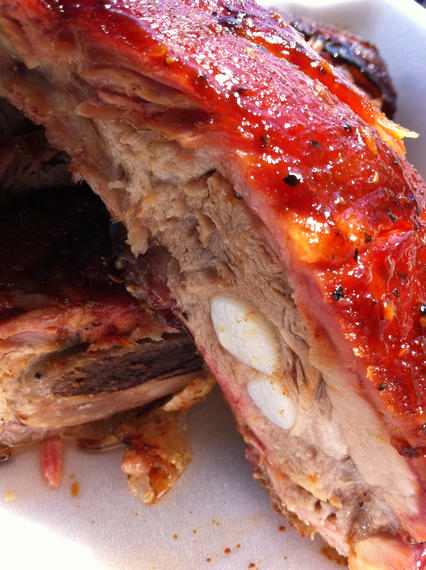 BBQ Spare Ribs
(1/2 rack portion was HUGE)
Wayyyy off the beaten path, we happened upon Tipsy Pig (conveniently located inside of a gas station) on the drive to Ronald Regan Park.  Our jittery little dog loves the quiet dog park in the back.  It's rare to see more than half a dozen dogs here.  And, they offer two enclosures (a big dog side and a small dog side).  We see finding Tipsy Pig as a reward for pampering our little devil dog.  We hadn't packed a basket lunch and we were getting hungry.
The ribs were fabulous.  FAB-U-LOUS.  Utterly tender, rich pork flavor and mild smoke.  It seems every new BBQ place goes bigger and bolder with the rubs, sauces and smoke.  It was refreshingly old-fashioned to see the pork shine.  A bit less smoke than we'd normally prefer, yet, these worked… really worked.  For that same reason, the pork ruled supreme.
The pork was great.  But, it got an assist from one incredibly great sauce…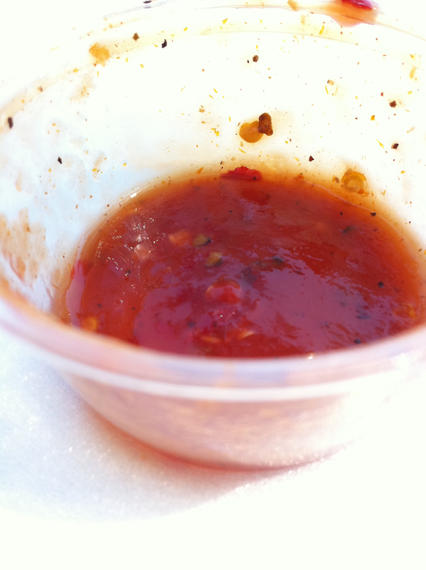 The Hot BBQ Sauce
Glorious sauce…  We love it!
Tipsy Pig's hot bbq sauce is one of the best sauces we've ever tasted  in Georgia.  It's a near perfect balance of tomato, spice, vinegar and a touch of sweetness.  Not too sweet, not too vinegary, not too thick and flavorful heat to awaken your senses.
Their regular sauce was a tamed down version of the hot bbq sauce.  But, why would you want to tame down this near perfect sauce?  It was a mystery to us.  We can only assume this was to please the burb-y masses.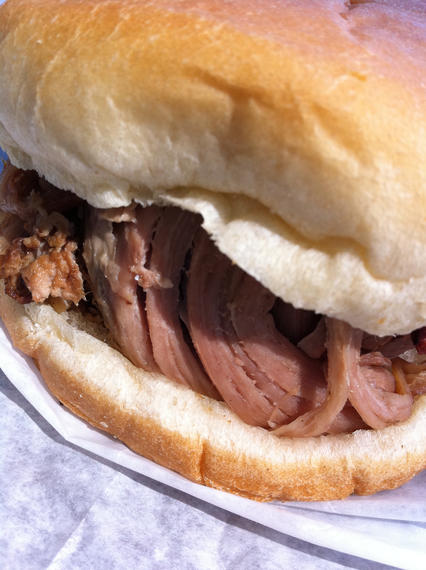 BBQ Pork Sandwich
Big chunks of tender pork are very generously mounded on an ordinary hamburger bun.  But, there's nothing ordinary about the meat.  We didn't get any crispy bark on our sandwich.  It was missed, but, barely.  Those chunks of moist, tender and delicately smoked meat easily satisfied.  When topped with more of that hot bbq sauce, it was more lily gilding.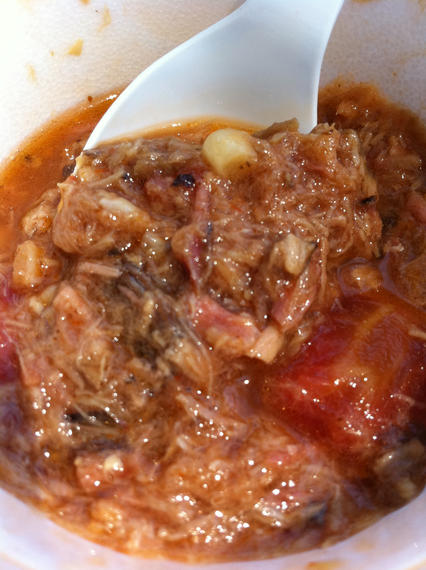 Brunswick Stew
Pork and corn play the dominant roles in this chunky stew.  No lima beans were to be found.  (That's a serious positive in our book.)  This might not be the best brunswick stew we've ever had.  But, it is stand-out good.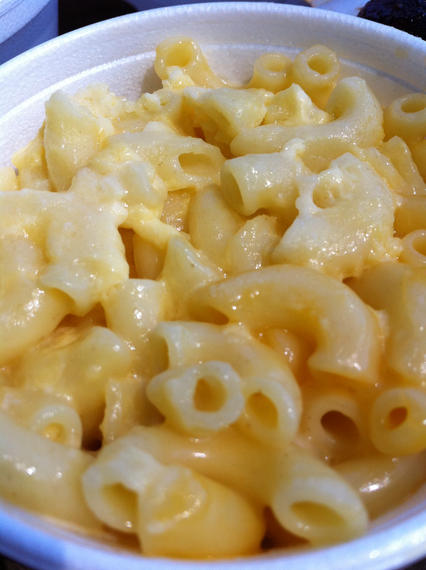 Mac & Cheese
We'd describe this dish as buttery noodles with cheese.  Not bad… not great.  If we were pressed to describe this mac & cheese in a word, we'd probably call them "simple".  When pairing two heavy dishes like ribs with mac & cheese, simplicity is a good thing.  We'd choose it again, too.
Tipsy Pig might be quite a drive into the burbs.  But, it's a drive we'll happily make.  Again.
…And, again.
Don't forget, the ribs are available on Friday & Saturday ONLY!
(Hours:  Tues-Sat from 11:00am – 8:00pm)
Tipsy Pig BBQ
(Inside Shell Gas Station)
3020 Five Forks Trickum Road
Lilburn, GA 30047
770 885 5313