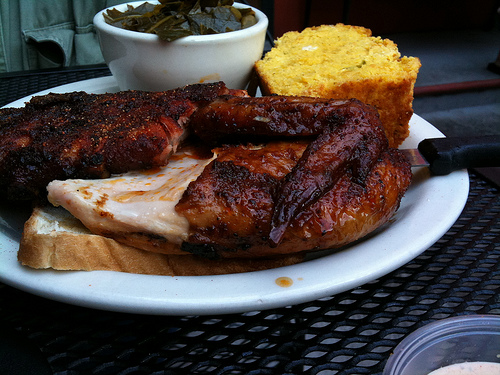 Fox Brothers:  Best Overall BBQ & Best Cornbread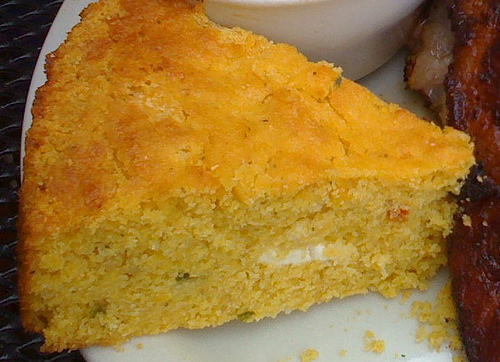 Who's got the best BBQ in Atlanta?
(Check out my first Best BBQ list posted on April 16, 2008)
Many of the originals have stood the test of time.  A handful of new additions have been added to the rotation.  While every restaurant on this list is a winner, Fox Brothers deserves the top spot with dozens of visits that have been nearly flawless.  Not only does the BBQ always exceed our expectations, but, the atmosphere and staff are tops.  And, the true test of a winner?  When we think of BBQ, we think of Fox Bros.  I can say without doubt that 9 out of 10 times we crave Fox Bros. over all the rest.
Fox Bros Bar-B-Q — BEST OVERALL BBQ, Best Cornbread & Best Patio for a BBQ Restaurant
Outstanding ribs, chicken, beef brisket, brunswick stew, mac & cheese, collard greens, turnip greens, and onion rings — And, they offer a white BBQ sauce for their chicken.  White BBQ sauce consists of buttermilk, herbs, and spices.  It pleasantly complements their spice-rubbed smoky chicken.  We also enjoyed the watermelon margaritas with fresh watermelon juice this summer.  Not too sweet, they're sooo easy to drink.
Fox Bros. BBQ
1238 Dekalb Ave
Atlanta, Ga 30307
404 577 4030
Thompson Brothers BBQ — Best Brunswick Stew & Best BBQ Sauce
Outstanding Brunswick stew & BBQ Sauce — Both rich with sweet and savory spices.  And, they burst with originality and incredibly unique flavor characteristics.  Great ribs, chicken, collard greens & an amazingly good pineapple upside down cake.
Thompson Brothers BBQ
2445 Cobb Parkway
Smyrna, GA 30080
770 818 9098
Sam's BBQ1 — Outstanding chicken and ribs
Sam's BBQ1 (Lost Mountain BBQ)
4944 Lower Roswell Road
Marietta, GA
770 977 3005
SmokeJack — The Best BBQ Beef Ribs
Great KC & Memphis Style BBQ pork ribs, corn pudding, collards, & cheese grits
Beef ribs that remind you of The Flintstones, doesn't necessarily speak to quality.  But, here the food is enormous and delicious.  We also love the variety of spice rubs and sauces.  Each version of BBQ sauce has something to like.  And, one of them is sure to please you. (A pasilla pepper sauce for the brisket, a KC style bbq sauce for the ribs, and the pulled pork has a Carolina mustard sauce)
SmokeJack
29 South Main Street
Alpharetta, GA 30004
770 410 7611
Swallow at the Hollow — Best setting —  Outstanding ribs, cabin bread, mac & cheese and baked beans
Also, country music fans can appreciate the regularly scheduled music events.
Swallow at the Hollow
1072 Green Street
Roswell, GA 30075
678 352 1975
Wyatt's BBQ — Great ribs, Southern Style Cornbread, & collard greens.  And, the BEST sweet potato cobbler! (Ok, it's the only sweet potato cobbler I've ever seen or tasted.  But, it's a real winner!)
The ribs are full of smoky flavor, tender and delicious.  The Southern cornbread is one of the best in Atlanta, the collards are rich, beefy and tender, and the sweet potato cobbler is out-of-this-world-good!  Super-rich with butter, brown sugar, cinnamon & clove, it's a meal.
Wyatt's BBQ Diner
1674 Memorial Drive SE
Atlanta, GA 30317
404 371 0311
Daddy D's — Outstanding ribs, chicken and collard greens
Also, one of the best cornbreads.  With a unique sweet cakey appeal, we look forward to Daddy D's cornbread as much as we do the ribs.
Daddy D's
264 Memorial Dr
Atlanta, GA 30312
404 222 0206
Fat Matt's — Great ribs
In our experience, we see a bit more charring at Fatt Matt's.  This gives Fatt Matt's additional bonus points and a higher mark than Maddy's.  But, Fatt Matt's & Maddy's are very similar.
Fatt Matt's Rib Shack
1811 Piedmont Ave
Atlanta, GA 30324
Maddy's  A Rib & Blues Joint  — Great ribs
The ribs are fall-off-the-bone tender.  But, they have a steamed quality that puts them under the rest for us.
Maddy's  A Rib & Blues Joint
1479 Scott Blvd
Decatur, GA  30030
Old South BBQ — Great ribs, onion rings and hush puppies
Old South BBQ
601 Burbank Circle (Windy Hill Rd)
Smyrna , GA 30080
770 435 4215
Pig-n-Chik (original location) — Best pulled pork and peppery potato salad
Incredible reliability, consistency and flavor make their pulled pork the best in the city.  With charred edges, a pink ring indicative of good smoke cookery, and a core of moist & tender porky meat.  Sometimes it nearly melts in your mouth.  To savor it properly… eat it on site.  Once, it's dished up the moisture has a tendency to dissipate.  We would never take it to go.  And, they have a Brunswick stew deserving of an honorable mention title.  It's loaded with chicken, pork, and black pepper.
Pig-n-Chik
4920 Roswell Road (inside the Fountain Oaks Shopping Center)
Atlanta, GA 30342
404 255 6368
KC Pit BBQ — Relocated
Outstanding BBQ Chicken — Great Ribs, burnt ends, and sweet potato casserole
234 Hilderbrand Rd. NE
Sandy Springs, GA 30328
404 459 6497