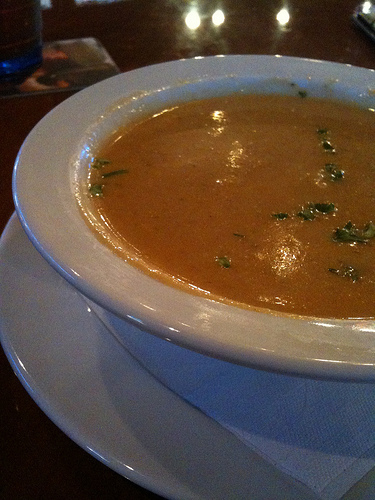 Seafood Stew
Really more of a creamy soup or bisque, this bore little resemblance to any seafood stew I've ever seen.  But, it wasn't bad and there was a spoonful or two of what I believe to be crab.  I won't call them chunks, but, there were small pieces of crab to be had.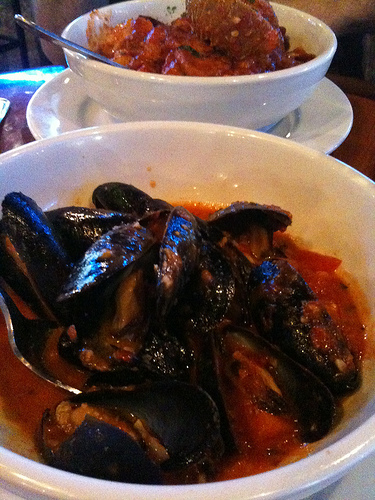 Mussels with tomato sauce, ouzo, and garlic
With no hint of ouzo flavor and mussels that can only be described as "well-done", I wasn't fond of this dish at all.  But, my honey said it was (and I'm quoting) "fine".  Mmm, a dish that deserves all the praise the word "fine" can offer.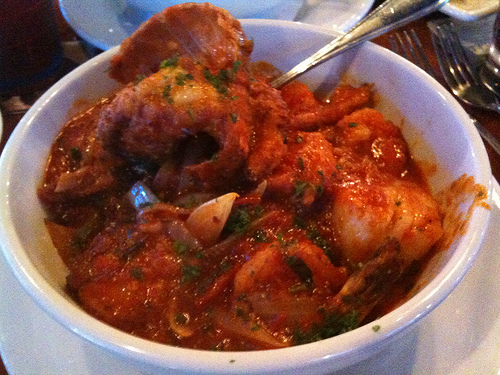 And, this massacre-in-a-bowl is Greek Paella.  I actually feel for the lobster.  I'm sorry it had to give its life for this dish.  Well… half its tail to be honest.  It gave the rest of its life to someone else's Greek Paella.  My honey enjoyed this, but, I had trouble looking at it.  And, I was less than eager to taste it.  It deserves all the praise that the word "fine" can offer once again.
Mykonos Taverna… eh… it's fine.
Mykonos Taverna
2901 Clairmont Road NE
Atlanta, GA 30329
404 638 6770