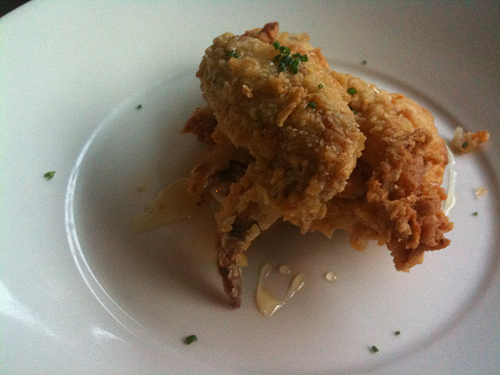 Current Front-Runner:  JCT Kitchen & Bar
The Best Fried Chicken in Atlanta
The Contenders:
JCT Kitchen & Bar
The Best Fried Chicken in Atlanta?  Maybe.  It is definitely our current front-runner.  Dishing up near-perfect chicken puts them in the lead.  But, the quality and care that goes into the chicken is equally distributed to the other elements of the meal.  Every item on the plate is a star in its own right.  Fabulous collard greens?  Yep.  Garlic green beans? yum.  French Fries? near-perfect.  And, turnip & potato gratin.  (Sunday Supper Sides:  Mac & Cheese?  Ridiculously Decadent.  Corn?  Dished up with melted cheese and perfectly crisp diced bacon.  Squash casserole?  mmhmm.  And, more.)
The Busy Bee Cafe
Just a nose behind the leader… This long time favorite boasts incredible consistency and a deep dark golden brown crusted piece of chicken.  Yet, miraculously the interior is always moist and juicy.
Greenwood's on Green Street
Solid Performer… Well-seasoned breading with plenty of pepper and fried to a crisp shell… But, the addition of honey is applied with a heavy hand creating a bit of random sogginess.  And, sometimes, there's just way toooooo much honey.
Watershed
Their offering has a hint of smoke, quality chicken and other ingredients.  But, we've experienced soggy breading on one occasion and an issue with greasiness on another.
The Colonnade
Always very crisp and freshly fried… usually great, but, on occasion a bit salty (possibly from the brining?)  Their sweet potato casserole is noteworthy.  It's incredibly rich and sweet with flavors of cinnamon & clove.  We treat it as a dessert.
Gladys and Ron's Chicken & Waffles
Tasty… two meals in one
Mary Mac's
When it's good, it's really good.  But, we've experienced consistency issues.