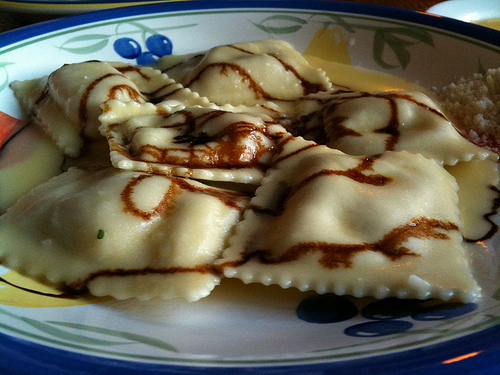 Ravioli di cipolla:  Carmelized Onion & Mascarpone with sweet balsamic glaze
Ravioli di Cipolla
Savory carmelized onion and mascarpone cheese filled ravioli with buttery cream sauce and balsamic glaze drizzle make for a perfect comfort food meal… Italian style.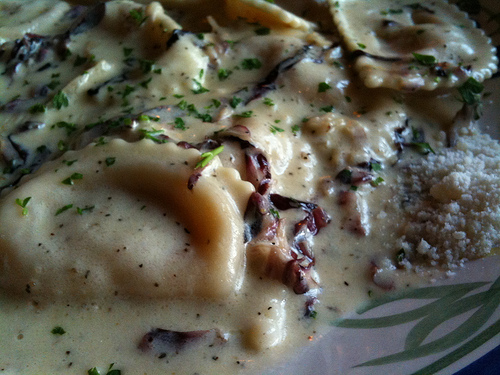 Zucca:  Butternut squash with a touch of amaretto fill these half-moon shaped ravioli
Zucca
These butternut squash ravioli have a fair bit of sweetness to them.  Luckily, the braised radicchio (Italian Chicory) temper that sweetness.  All the best flavors of fall are stuffed in a ravioli.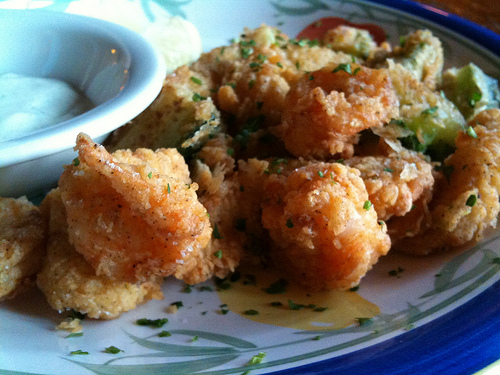 Fritto Misto:  A mixed fry of calamari, shrimp and zucchini
Fritto Misto
The shrimp and calamari were cooked well with crisp exterior and tender, delicate centers.  The calamari was particulary melt-in-your-mouth tender.  But, the zucchini faired worse.  It absorbed a significant amount of oil… this was the one real failure of the meal.  It's not surprising.  Almost all attempts to fry zucchini end in failure.
Service:  Service quality at Figo varies by location.  We prefer the Westside location. 
Figo
(multiple locations)
1210 Howell Mill Road (@ the corner of Huff Road)
Atlanta, GA 30318
404 351 3700