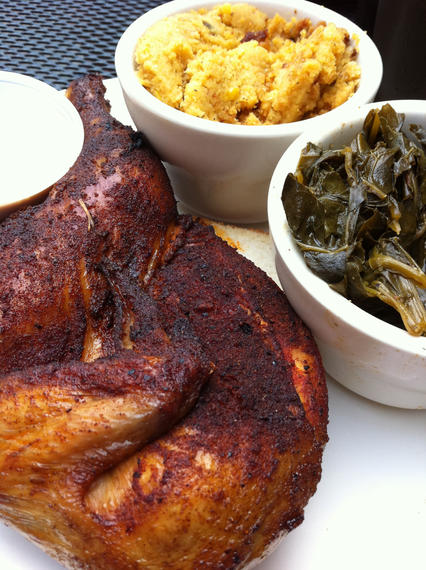 BBQ Chicken with Cornbread Stuffing & Collards
Over three years of bbq heaven and still going strong…
Fox Bros BBQ has hovered near the top of our favorite bbq spots list for all three of those years.  Another visit proves why.
The chicken was perfect, as usual.  Covered in spices and beautifully smoked, the delicate crunch of the skin accented the moist, tender meat on the inside.  This was our first time trying the cornbread stuffing.  Rich cornbread proves to make an even richer, butter-ier and more decadent stuffing.  It might be a little too rich for our blood.  But, it's still very tasty.  Next time, we'll go back to one of our all-time favorites… their original jalapeno cornbread.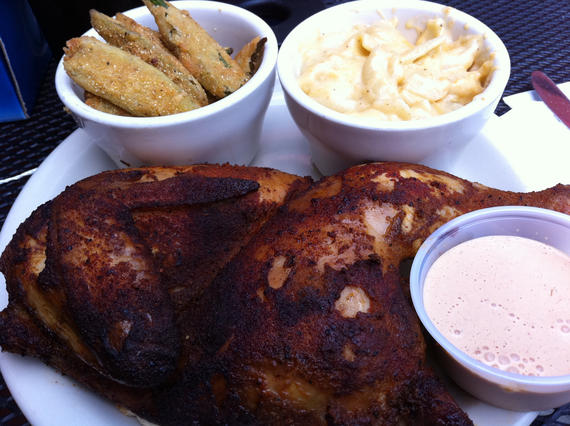 BBQ Chicken, Fried Whole Okra, Mac'N'Cheese & White BBQ Sauce
Ditto, chicken perfection.  This time with crispy fried okra and super cheesy mac & cheese.  It might not be the prettiest mac & cheese in the world.  But, it sure is good.
Fox Bros BBQ
1238 Dekalb Avenue
Decatur, GA 30307
404 577 4030