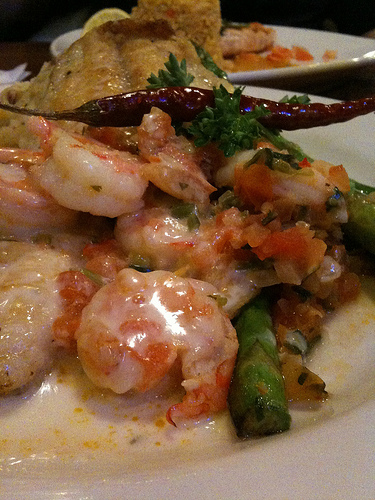 La Parrilla Tilapia & Shrimp
This piece of tilapia was clearly pan-fried to order.  It was still piping hot and the breading was crisp.  The handful of shrimp that were drizzled with the ever-present melted white cheese… surprisingly tasty.   The pico de gallo was warm and appeared to be slightly stewed.  Overall, this was an enjoyable meal.  We particularly enjoyed the live musicians.  I'm not sure if it's the same group every week.  But, if it is, we'll definitely be back.  The female vocalist was quite talented.  She reminded me of the bands that play at bayside in Miami.  She made the loud & crowded room bearable.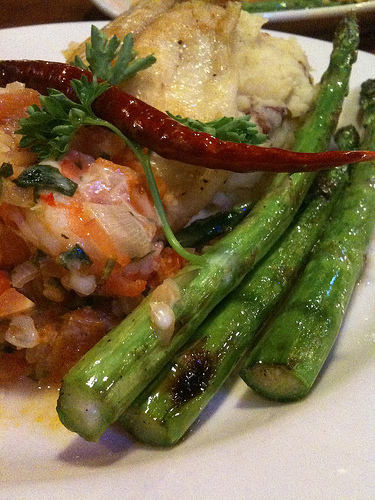 The Sides:  grilled asparagus & chipotle mashed potatoes
The fresh asparagus was nicely cooked… seared and still maintaining a bit of fresh crispness.  And, chipotle mashed potatoes were a better alternative than the rather soft and mild Mexican rice.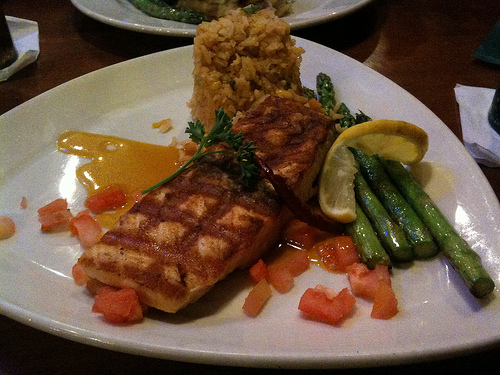 Salmon with tequila mango sauce
The tequila-mango sauce was tasty, but, a bit on the sweet side. The grill marks on the salmon were rather anemic even though the salmon itself was on the well side of done.  The asparagus was cooked properly.  There was absolutely nothing wrong with the dish.  Well, other than the fact that it reminded me a bit of airline food.
Note:  Chips & salsa were good.  The chips were thin, warm & crisp.  And, the salsa was sweet & spicy… really sort of addictive in an odd way.  I'd have to say better than most chain restaurant salsas.
Verdict:  I'd definitely choose this chain over others in the Atlanta area.
La Parrilla
5131 Peachtree Parkway, Suite 1005
Norcross, GA 30092
770 242 0766