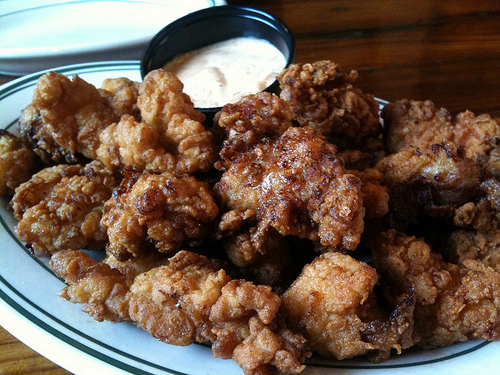 Gator Bites
The Depeaux is dishing up these perfectly fried bites made of alligator tail meat.  As South Floridians at heart (and frequent visitors of New Orleans), we've sampled gator here and there.  It's usually disappointing.  Sometimes it's overcooked, sometimes it's tastesless, and other times we find ourselves wondering… where's the gator?  Not here.  These tender pieces of gator were crispy golden on the outside & moist inside.  Taste-wise, the flavor was similar to that of a richly fried cutlet of tender pork… or maybe veal.  There is a hint of fish in flavor & texture, but, in a good way.  We really, really enjoyed this.
And, by the way, this is an appetizer.  It was beyond generous for two.   Three or four could easily share this as a starter.
With Mardi Gras right around the corner, this is going to be our go-to spot to grab a bite in Decatur.  The renovated train depot is charming and the staff is super friendly.  Love it!
Next Up:  The Depeaux — Part 2 — Two Days of Brunch
The Depeaux
303 East Howard Avenue
Decatur, GA 30030
404 377 7234