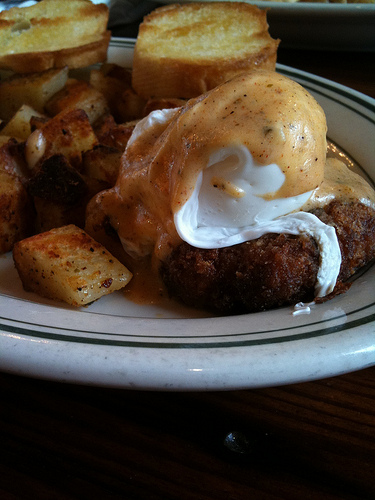 Chesapeake Crab Benedict
Two crabcakes, each topped with a perfectly poached egg, sit next to a generous portion of home fries that have a lovely deep golden brown shell.  I love my home fries to be crisp on the outside and creamy in the middle.  So, these were perfect for me.  Fluffy rolls were sliced, nicely toasted and wisely served on the side.  I think this is a great idea.  I'd rather have crispy toast on the side than a soggy limp muffin underneath.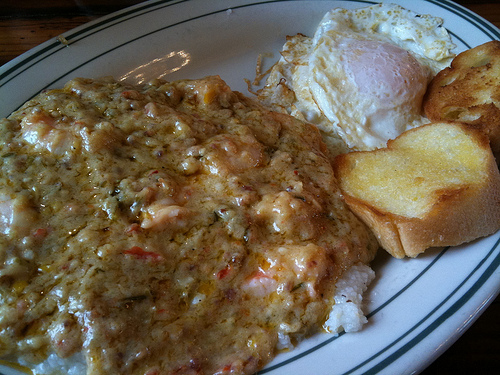 Shrimp & Grits (There are two eggs… one is hidden under the other.)
The sauce might be showing a bit of separation in this picture.  But, the taste was incredible.  Using crawfish as a base to their sauce, the richness and depth will be something that all future shrimp & grits dishes will need to top.  The flavor was extremely memorable in the best possible way.  Normally, an overly decadent usage of butter might scare me away from a dish… not this time.  I was stealing bites of this left & right.  The shrimp were so perfectly cooked they nearly melted in our mouths.  In fact, they were so tender they reminded me of rock shrimp.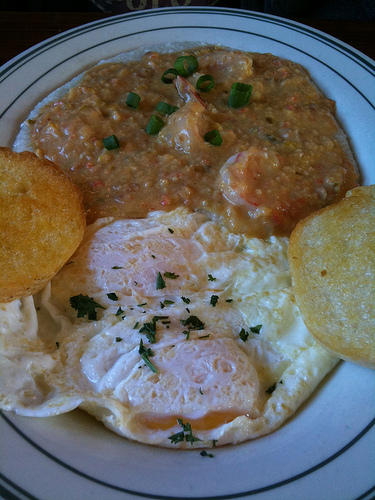 At least 7 or 8 shrimp were hidden in this dense sauce.
Does this look familiar?  Yes, the Shrimp & Grits were so addictive we came back the next day.  We both ordered our own… no sharing.  Interestingly, the sauce was a bit different on the second visit.  While it was very good in its own right, the flavor wasn't quite as rich and intense as the day before.  This sauce was smoother and more polished with a distinctive freshness from sweet red and green peppers.  But, we both missed the decadent butteriness and intense crawfish flavor from the day before.  The crawfish flavor was still present.  It was simply more subdued and subtle.
We'll be back… without a doubt.
The Depeaux
303 East Howard Avenue
Decatur, GA 30030
404 377 7234