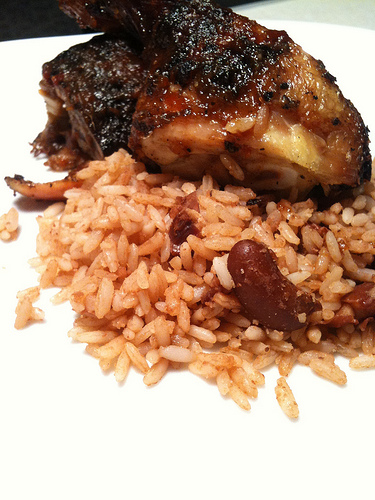 Jerk Chicken with Red Beans & Rice
We first visited this great spot just east of Stone Mountain Park soon after they opened.  And, the food has done nothing but get better and better.  The chicken hits all the right spots:  spicy, smoky,  tender, juicy, and a hint of sweet & sour tang.  Coconut milk adds lovely sweetness to the rice & beans.  They are the perfect foil for the heat of the chicken.  Seriously, yum!  The picture (above) shows less than a third of the incredibly large portions we are given on every visit.  Check out the full to-go box (below).  Both meals were literally bursting at the seams.  Each meal had 4 pieces of chicken, giant portions of rice, buttery cabbage with mixed veggies and fried plantains.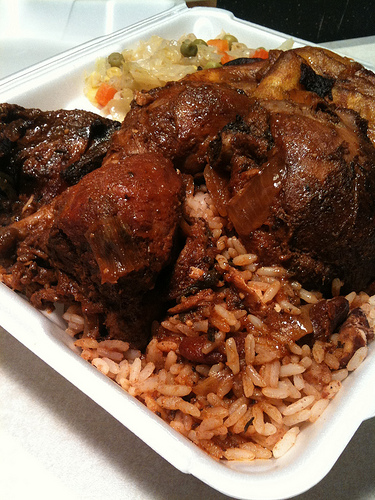 Brown Stew Chicken
The brown stew chicken has an equally full spectrum of flavor.  It's a slightly healthier alternative due to the lack of skin on the chicken.  While I'd say that the brown stew chicken is a bit less spicy (a little tamarind, maybe, with some coconut milk to add to the sweetness?), both dishes offer up nice heat.  We order both every time and share.  We can't pick a favorite.  And, we almost always grab a couple of the yummy spice buns for breakfast the next day.
J & J Jamaican
5210 Stone Mountain Highway (Hwy 78)
Stone Mountain, GA 30087
770 498 8919