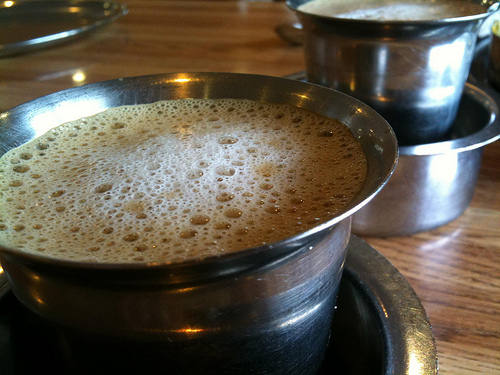 Special Madras Coffee
This coffee is utterly delightful. Rich & creamy with a delicate hint of cardamom, it's a perfect way to start or end any meal.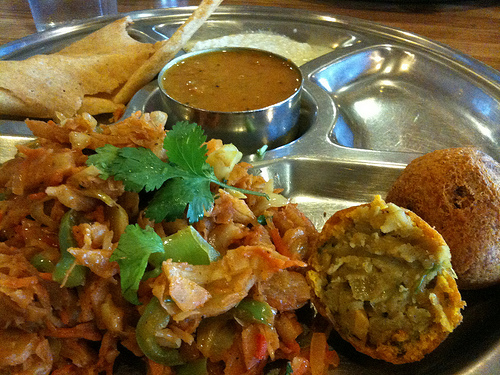 Mixed Vegetable Parotta, Vegetable Bonda and Kara Dosa
This lineup could easily be called a "Best Hits List" of Saravanaa Bhavan.  But, honestly, the same could be said for most of the menu.  We've loved this restaurant from day one.  And, they've maintained our interest for years.
Mixed Vegetable Parotta
This mix of finely sliced peppers, onions, carrots, parotta and chickpeas are blended with a mildly spiced sauce.  It is suprisingly addictive.  Considering my fondness for the spicier options, it's shocking how often I opt for this comforting alternative.
Vegetable Bonda
A ball of starchy goodness wrapped in a turmeric-laden batter… then deep fried.  What's not to love?  We order this on almost every visit.
Kara Dosa
We love the complex blend of spices filling this dosa.  Starches are a sponge for spice.  They're a wonderful canvas for the rich fiery spices in this dish.  The kitchen uses a skillful hand to maintain the unique layers of flavor that work in harmony, never allowing the heat to mask more delicate flavors.  Perfectly spiced for our taste,  some might find it on the high end of their spice tolerance.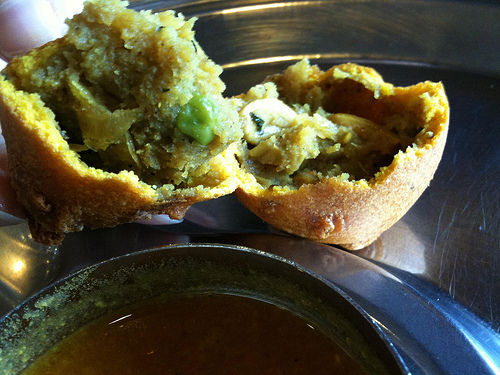 Vegetable Bonda filled with smashed potatoes, lentils, chopped onion and peas
Saravanaa Bhavan
2179 Lawrenceville Highway
Decatur, GA 30033
404 636 4400