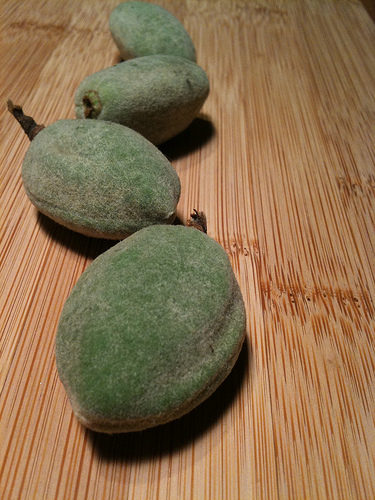 Fresh Green Almonds
Global Food and Nuts sits in the same strip mall as Veranda Greek Taverna.  Attracted by the variety of Hookah pipes lining one of the front glass windows, we had to check this place out.  We were instantly greeted by tall rows of candy, tea, nuts (lots and lots of nuts), spices, jams, preserves, olives, and an assortment of Persian groceries.
But, sitting in a big box on the floor, we found the real jackpot…. fresh green almonds!  They're perfect… fresh bright green shells with their lovely white fuzz.  And, for $2.99 a lb, they're a real find.
Then, we spotted a nut blend chock full of cashews, 4 kinds of raisins (huge sultanas, green raisins, and 2 types of dark raisins), roasted chickpeas, pistachios, dried pineapple, fried bananas, dried papaya, and dried mulberries!  (The dried mulberries are also available for purchase in small containers and a freezer off to one side has a variety of frozen mulberries.)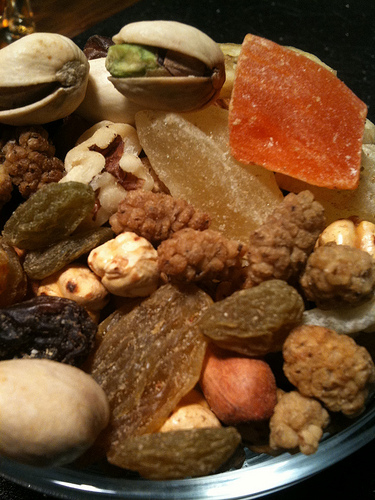 Dried Fruit and Nut Blend with Dried Mulberries!
The freshness of the dried fruits were obvious.  They were all so soft and tender.  We LOVE this blend.  The huge sultanas are super sugary sweet.  And, the roasted chickpeas add a nice smoky toasty complexity to the blend.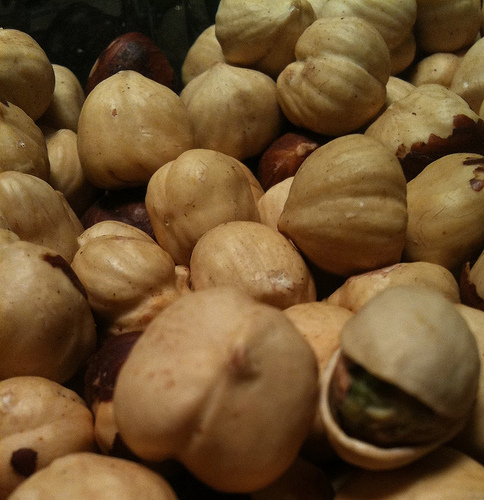 Huge Hazelnuts
One of our relatives has a farm with a number of hazelnut trees near the Amalfi Coast in Italy.  So, we've eaten some great (fresh) hazelnuts in our lives.  We can't remember the last time we've seen hazelnuts this big.  These are HUGE… and roasted to perfection.  Love them!
And, a few more great finds:
Cornelian Cherry Preserves
Mulberry Preserves
Grapeseed Oil
Spiced Olives
We can't wait to go back to this great little shop.
Global Food And Nuts
11235 Alpharetta Highway
Suite 111
Roswell, GA  30076
770 619 2966