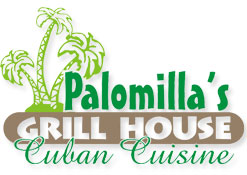 The Setting:  Palomilla'sGrill House is a cozy little restaurant set inside a fairly generic strip mall.
The Staff:  Friendly and attentive
The Food:  Palomilla's dishes up simple Cuban food.  And, it is everything that it should be.  All of the favorites are represented on their menu.  Vaca Frita, Ropa Vieja, Picadillo, Bistec de Palomilla, Bistec Empanizado, Boliche, Lechon Asado, and Bistec de Pollo Empanizado are just a sampling of what they offer.  But, my personal favorite is the Masas de Cerdo.  Marinated chunks of tender pork are deep fried and topped with sauteed onions and mojo.   
The food is quite good.  But, there are a few improvements that could be made.  One of my complaints would be the fact that the onions garnishing many of the dishes appear stewed rather than truly sauteed. Another complaint would be the hit and miss nature of the fried sweet plantains (Platano Maduros).  Mine were undercooked, while my dining companions were cooked to perfection.  And, finally, the mojo itself appears a bit tamed down for the masses.  It is tasty none-the-less.  But, a stronger dose of fresh garlic and bitter orange would greatly enhance their sauce.
Stars of the Day:  Masas de Cerdo and Medianoche… The Medianoche is noteworthy due to the use of their own roasted pork (shredded) for the sandwich.
Palomilla's Grill House
6470 Spalding Drive, Suite B
Norcross, GA 30092
770 242 0078