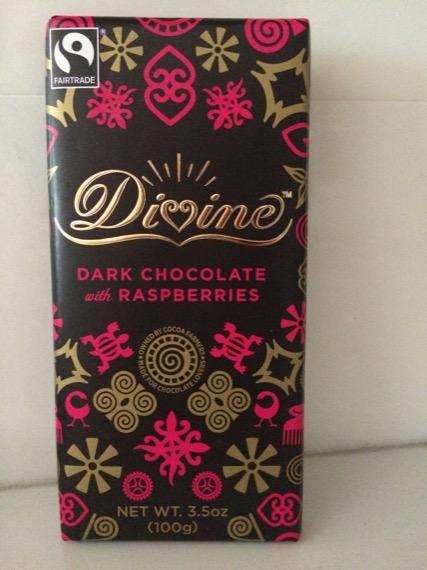 Divine Chocolate
Dark Chocolate (70%) With Raspberry Bits
Gorgeous packaging, lovely bitter (in the best way) dark chocolate with gentle touch of sweetness, and vividly bright bits of freeze dried raspberry…
Those bits of raspberry keep us hovering on the fence.  The crunch of the raspberry seeds add pleasant intrigue.  But, they're a touch sour.  That's "fine" and a bit interesting in small doses.  But, we're still stuck on the fence with this bar.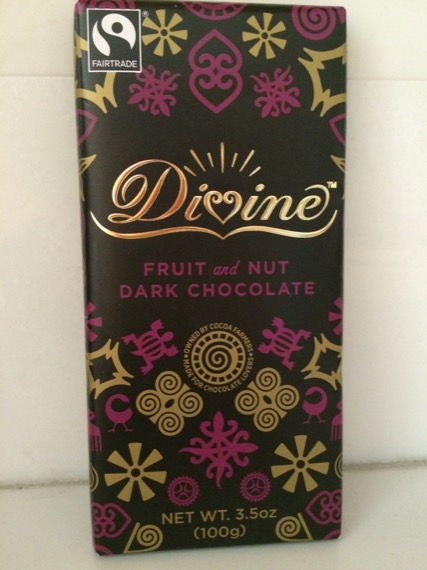 Again, just look at that wrapper.  That's some seriously brilliant and gorgeous packaging.  We both enjoyed this dark chocolate fruit and nut bar considerably more.  Currants and almonds, yeah, that's quite nice.  (It's probably our favorite out of the Divine bars that we've sampled.)  Divine bars have been hit and miss for us.  If you factor in the quality and cost, this one is a real hit.  But, it's a twist of sheer luck that Divine Chocolate's clever packaging keeps calling out to us.
And, we're sure to try the dark chocolate with mango and coconut… as soon as we can fine one.
If you're the type to gift out random sweet treats and surprises this week, a stack of high quality bars (our favorite bar) wrapped with a fancy bow would make a great first gift.  Or, you might consider trying a small basket of bars and other pretty little candies decorated with fresh flowers. Or, put together a high end cocktail making basket with hard to find bitters and a gorgeous shaker.  Or, make a basket full of green teas with an artful mug at the center.  Or, how about a matcha making kit?  Or, a basket of soaps, lotions, creams and fragrances (Body Shop's Absinthe and Honey are someone's favorite in this house.)  Or, you might want to wake up your special someone with a tray of croissants and/or pastries served with their favorite coffee in bed.  An effortless start to the day wins hearts everywhere.  It really is all about the little things that you do every day to make someone feel loved.