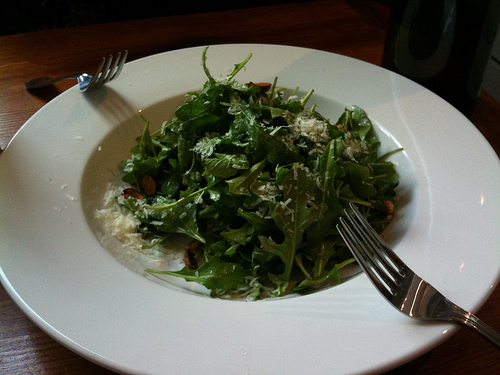 This arugula salad with perfectly roasted peanuts and thinly grated cheese was the perfect start to my meal.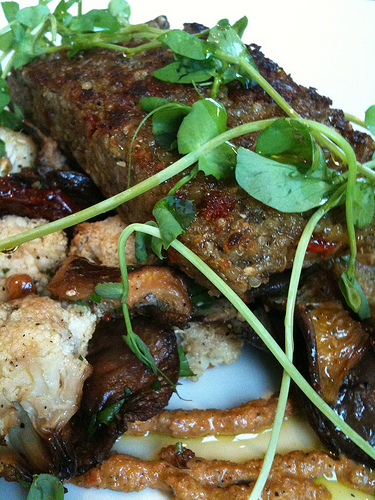 The veggie loaf is one of my favorite choices at Leon's.  It's unexpectedly rich and satisfying.  If anything, it's too rich.  The loaf itself includes lentils, onions, red pepper, quinoa, seasame seeds, and a few other clever ingredients.  Roasted cauliflower, mushrooms and sun-dried tomatoes add even more richness.  Hazelnut romesco sauce and a generous drizzle of olive oil gild the lily.  Love it!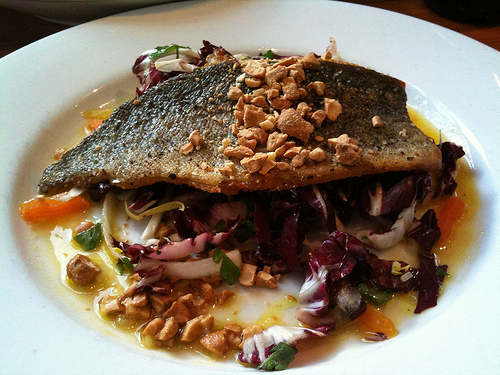 Another winner, this crisp pan-fried trout is generously topped with dark gold roasted cashews.  What a lovely bit of genius they are combined with dried apricot slices.  I can't decide which dish I love the most.  All three of these are winners.  But, we already knew that.  That's why we choose Leon's again and again.  The food is consistently great.  And,usually (I wish I could say always… but, I can't), so is the service.
Leon's Full Service
121 East Ponce de Leon Avenue
Decatur, GA 30030
404 687 0500