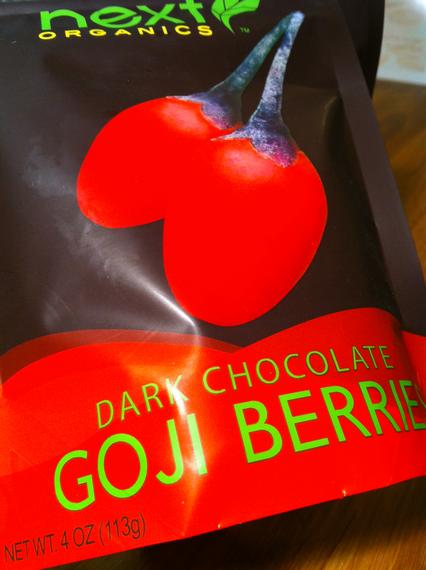 Dark Chocolate Covered Goji Berries
With a hard texture that is tougher to chew than your standard raisinette or chocolate covered blueberry, we can't say they're our favorite chocolate covered berry.  But, they are interesting.  Some of the goji berries are crunchy… others are chewy.  It's a bit disconcerting.  They all do have one thing in common.  They're all more than a little bit sour.  The one positive?  We enjoyed the way the sour berries brought out the flavor of the dark chocolate.  (even if it wasn't the best chocolate)  Clearly, this isn't a glowing recommendation.  But, we're willing to give them another chance.  Right now, though, I'd rather have a package of dark chocolate covered blueberries.
We also bought a bag of Next Organics's dark chocolate apricots.  (7 apricots in a $6 bag)  They didn't win us over either.  We weren't crazy about the chocolate.  It was rather bland and mild with an almost carob-y flavor.  We both prefer very dark bittersweet chocolate.  We definitely won't be buying the apricots again.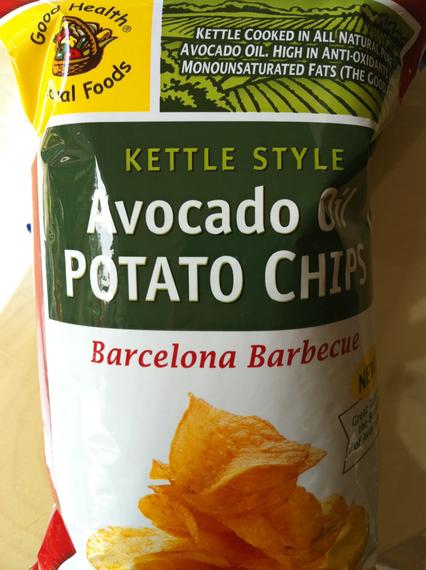 Avocado Oil Potato Chips (Barcelona BBQ)
Now, these we both loved.  I don't know why they're called Barcelona BBQ.  They tasted just like every BBQ potato chip we've ever eaten.  And, since we love BBQ'd potato chips, we loved these.  The one negative?  They're a bit too salty.  But, that didn't stop us from devouring the bag.  (serves 5… HA!  But, the bag did serve two very generously.)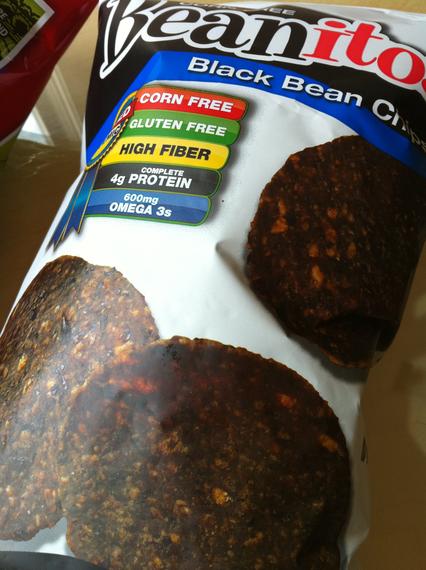 Beanitos
The Beanitos got a mixed review.  One of us loved them.  (He did.)  One of us… eh, not so much.  (She didn't.)  They were interesting.  They really did taste like black beans.  The texture of the chips was surprisingly light and crisp.  They had a delicate tender crunch that crumbles easily in your mouth.  But, there was an unpleasant aftertaste.  (She said.)  We ate them plain.  With dip, this might not be an issue.
Alon's Bakery & Market
4505 Ashford Dunwoody Road
Atlanta, GA 30346
678 397 1781