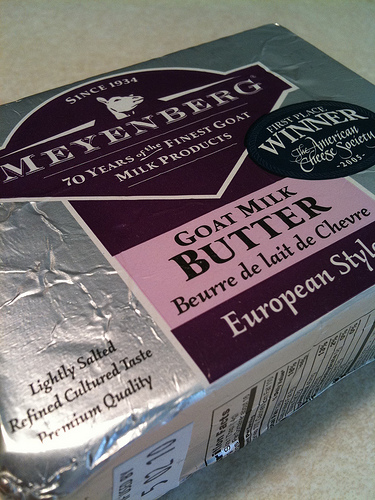 Pure White Meyenberg Goat Milk Butter
I'm really enjoying this pure white butter.  It's gorgeous on a dinner table and quite tasty, too.  European style butter usually has a bit of a punch with its rich butter flavor.  But, this goat milk butter is light and fresh with a pleasantly mild taste.  It really is lightly salted, too.
All of the fresh goat milk that I've been lucky enough to taste has this same fresh, light and bright flavor.  This may be a result of the high quality of the goat milk.  Or, this may be a result of the freshness of the product.  Either way, these positive experiences have me interested in sampling all of the fresh goat milk products I can find… I'll definitely be sampling any brands I can find to see if this holds true in the future.
Available at:
Your Dekalb Farmer's Market
3000 East Ponce De Leon Avenue
Decatur, GA 30030
404 377 6400