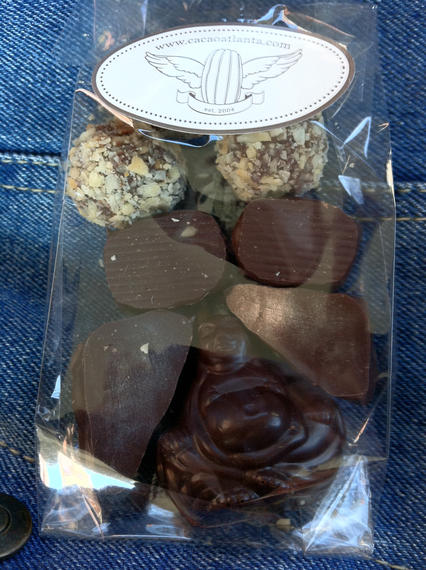 Since this was a gift, what was my honey's first question of the staff behind the counter as he hand-picked these chocolates that were being set aside for packaging?  "Will these be packaged in a box?"  With an affirmative, he went on to pick out 8 truffles and one chocolate cream filled buddha.  When this teeny tiny clear bag appeared at the register he was surprised.  Then, surprise number 2 was a bill of just over $25 dollars.  Each little truffle was $2.50 and the buddha was $3.50.  Under normal circumstances, he wouldn't share the cost of a gift with me.  But, he felt the humorously tiny bag required some explaining.
Twenty-five dollars is not an unusual sum for a small box (emphasis on box) of truffles.  The shock comes when you realize that the teensy weensy clear plastic bag photographed above is slightly larger than a standard business card.  The exact dimensions of our filled bag was 2 1/2 inches wide by 4 3/4 inches long.  Many giggles & chuckles accompanied the measuring of this bag.
As pictured from top to bottom:
2 Peach Amaretto (hidden under label)
2 Coconut Dulce de Leche
2 Strawberry Basil
2 Fig Balsamic
1 Ginger Buddha
Enough already… How was the chocolate?
It was fine, but, flavors were almost hidden under intensely strong bitter chocolate.  This is clearly good quality dark chocolate.  But, it's defining note is one of bitterness.  One of us is a lover of all things dark chocolate… the other loves white chocolate.  The white chocolate lover found them overwhelmingly bitter.  And, the dark chocolate lover uttered words she thought would never cross her lips… they were a little too bitter.  There was one exception.
The Fig Balsamic was knock-your-socks-off-stellar-good.  LOVE IT!
The timeless question rears its ugly head… does size matter?
Cacao Atlanta Chocolate Co.
312 c North Highland Avenue
Atlanta, GA 30307
404 221 9090