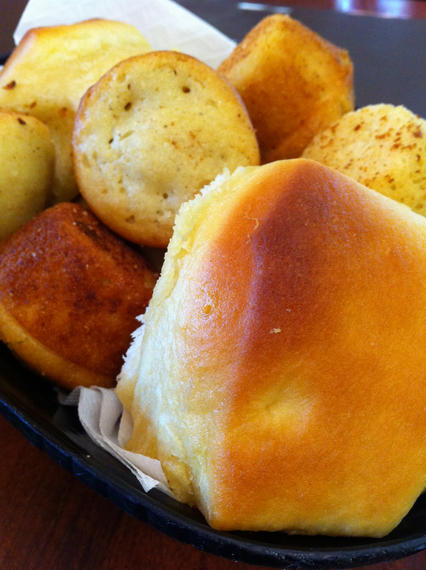 Corn Muffin and Yeast Roll Basket
We enjoyed the fluffy, buttery yeasty rolls.  The corn muffins were a bit dense.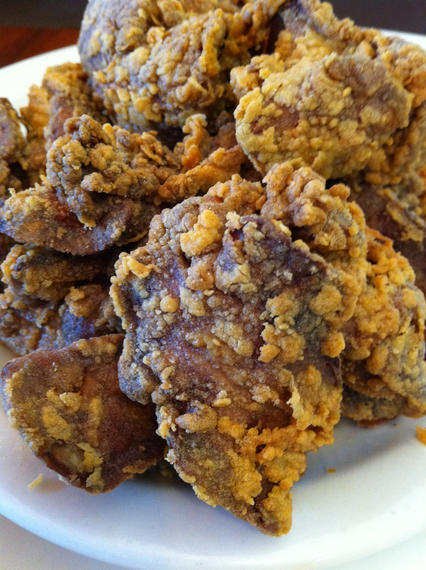 Fried Chicken Livers
Lightly battered, these were the highlight of the meal.  They were perfectly tender and each piece was tinged with just the right touch of pink.  Overcooked chicken livers can be a bitter, mealy mess.  These were rich, meaty and bordering on creamy.  This is one of the best versions of this dish we've ever eaten.  A few years ago, we would have turned our noses up to fried chicken livers.  Not anymore.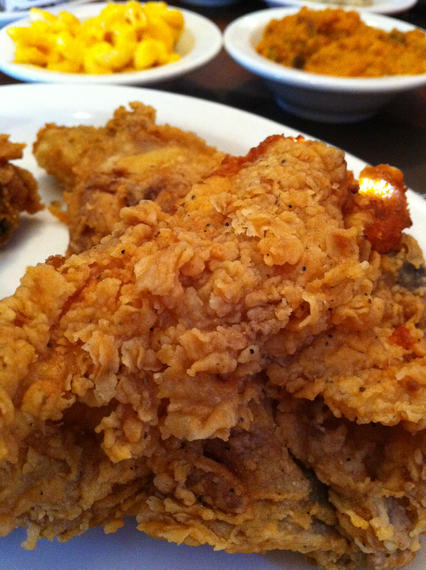 Fried Chicken
The fried chicken at Colonnade can be a little hit and miss.  One time the chicken was a bit stale and cold.  Did we arrive at an off time?  We don't remember.  Another time it was a bit salty.  But, we keep coming.  Why?  Because when it's good, it's really good.  This was one of those occasions.  Fresh out of the frier, the breading was super crisp, yet light and delicate.  The chicken itself was full of flavor and gushing warm juices.  All the while,  the crispy exterior was offering delicate crisp bites that almost dissolved under your bite.  The Colonnade has never offered the rich depth of flavor that you'll find at Busy Bee.  But, on a good day, it can be quite nice.
The sides are a dilemma here.  The flavor of the mac & cheese (above) resembled something out of a box.  And, the sweet potato casserole was considerably less memorable than previous visits.  Previously, we remember the right touches of clove and other sweet spices.  This time the dominant taste is sugar.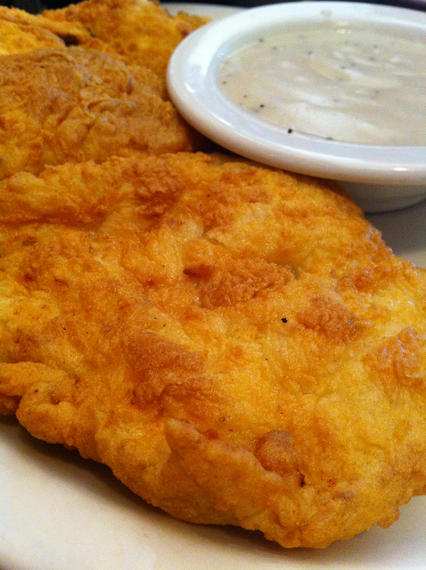 Chicken Fried Chicken
Lacking the skin of a whole piece of chicken, the batter on this chicken breast puffs up and away from the meat.  The batter doesn't adhere very well to the lean chicken breast.  The interior was tender and juicy.  The downside?  Those juices turn the bottom of this chicken fried chicken into a wet mess.  And, the gravy is a bit too thick and clunky for our taste.  We were grateful that it was served on the side.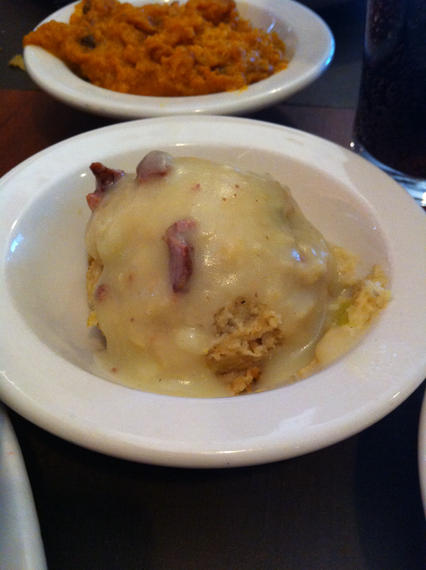 Celery Dressing and Sweet Potato Casserole
The sides are the weak link again.  Scooped cafeteria style, the celery dressing might be more appealing if it were in a little casserole dish.  While the flavor reminds us of a stuffing made with super old-fashioned bouillon cubes, it's not exactly bad.  It would be acceptable at a school cafeteria.  One of our mothers was a huge fan of the bouillon cube.  Thankfully, she doesn't even use those anymore.  Or, this is a flavor you might remember from college.  Chicken ramen cubes, anyone?  Last but not least, we come to the sweet potato casserole.  Again.  This time the portion arrived appearing as if someone had already taken bites out of it. (see photo above)
Hit and miss defines this place to perfection.  Hopefully, next time we'll see more hits.
The Colonnade
1879 Cheshire Bridge Road
Atlanta, GA 30324
404 874 5642