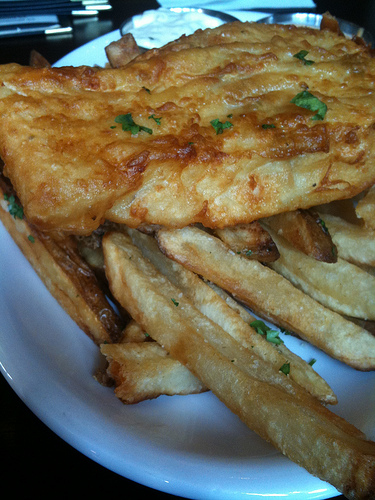 Fish & Chips at Ri Ra Irish Pub
(thick-cut chips are an option)
Ri Ra's fish & chips were a huge hit with us.  This batter-fried haddock was fried to a deep golden brown with super crisp edges.  The dense batter was everything we were looking for in a traditional "Fish & Chips".  The dense batter had a unique eggy quality that achieved a rich crisp crust.  I don't doubt its authenticity.  We often see a lighter (and usually significantly  greasier) battering.  That doesn't make it true or authentic.  It just makes it common.  As a matter of fact, given the size of Ireland… I'd guess that there is more than one way to prepare a "Traditional Fish & Chips".   I'll choose this version any day of the week.  If they are able to maintain the quality we saw on this visit, we'll be very happy.  Tempered with the knowledge that this is only one visit, it is still the best Fish & Chips we've eaten in Atlanta…  by a mile.  We'll eagerly sample this for weeks to come to test for consistency.  It's a tough job, but, someone's gotta do it.
Given the option of regular fries or the crispier thick-cut traditional chips, it was no choice at all.  I can't imagine ordering anything other than the thick cut chips.  They were devoured by both of us.  The picture (above) does not do the chips justice.  They were super crisp with great flavor; and, they were properly salted.  The Irish Remoulade was new to us.  But, that didn't stop us from dipping both fish & chips in the spicy remoulade.  Is this traditional?  It's a mystery.  And, quite frankly, I could care less.  It was so addictively good that the tartar sauce went untouched.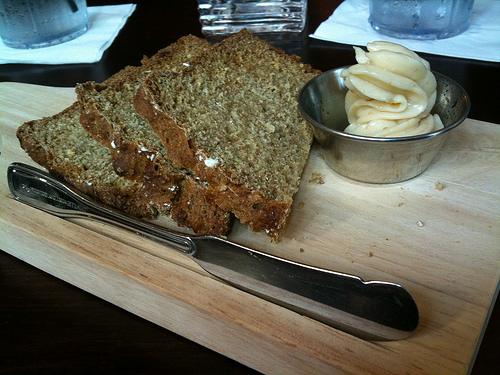 Irish Soda Bread (Brown Bread) with Guinness Honey Butter
Simple, delicious & moist.  Traditional Irish soda bread consists of whole wheat flour, buttermilk, bread soda, and salt.  The addition of sugar is common in Northern Ireland.  All other ingredients were added over the years by Irish immigrants.  (Probably by loving wives trying to keep their hard working husbands happy with some simple luxuries.)  Guinness honey butter… traditional?  No.  But, once you've tried it…  it will be a requirement!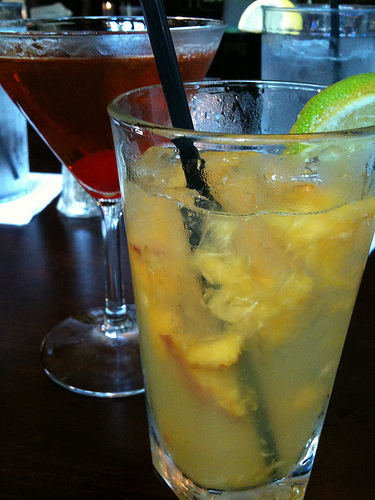 Irish Manhattan (Bushmills Northern Irish whiskey makes a kickass Manhattan) & Fresh Peach Margarita (not Irish… but fab… I'm a girl and I'll order it again… you just watch me)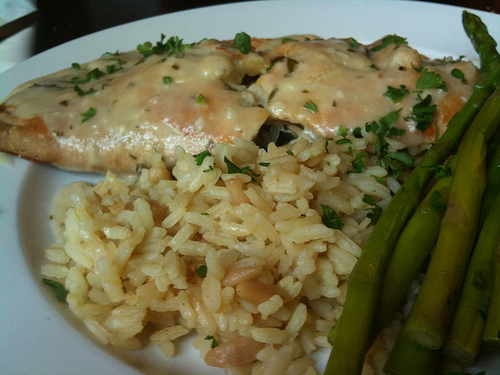 Seafood Pasty (September's Special)
It's not much to look at.  But, well-stuffed with shrimp and salmon, it was enjoyed.  And, more than one nibble was stolen.  We'll be ordering it again this fall & winter.  I'm sure of it.  In an ode to Ireland, the rice & asparagus were boiled and boiled… then boiled some more for good measure.
We finished the meal with a Bailey's & chocolate mousse topped with whipped cream.  Deadly rich, dense, and chocolate-y, it is more than enough to share.  And, I dare you to finish one on your own. (If you prefer the type of mousse that is reminiscent of eating chocolate flavored whipped cream, this is not for you.)
The Verdict:  Loved it!  The atmosphere was welcoming, our server was incredibly friendly, the surroundings were gorgeous, and the food was great on this visit.  We can't wait to go back… is tonight too soon?  Self-billed as an Irish Bistro with a fusion of Irish & American pub food.  They make no promises to be 100% traditional.  Why should they?
Rí Rá Irish Pub
1080 Peachtree St
Atlanta, GA 30309
404 477 1700