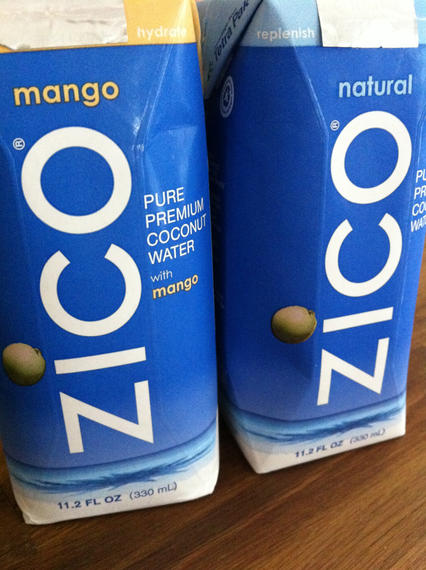 Zico
(Mango & Natural)
We found Zico's coconut water to be light, refreshingly pleasant, and fresh tasting.  By far, this was our favorite brand.  It's obviously not as good as drinking straight out of a machete chopped coconut.  But, it's a great substitute.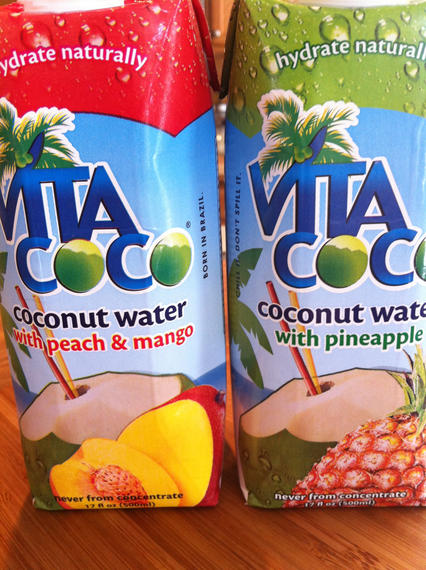 Vita Coco
(Peach/Mango & Pineapple)
With Vita Coco, we tried the Peach/Mango, Pineapple and Pure Coconut waters.   The flavor wasn't quite as pure and fresh tasting as Zico.  On the bright side, Vita Coco is enhanced with vitamin C.  This enhancement must be what alters the taste.  We both preferred the Zico.  But, if we want a boost of vitamin C, we might pick Vita Coco.
And coming in last place…
There was Coco Fit + (Mangosteen Flavor).  The plus side?  There was a pleasant peachy, melon-like flavor.  However, an overwhelmingly distinctive chemical/artificial taste was evident from their use of an artificial sweetner.  Even though it clocked in with only 35 calories, that off taste will keep us reaching for this one last.
Untested:
O.N.E.
(When we find it locally, we'll give it a try.)