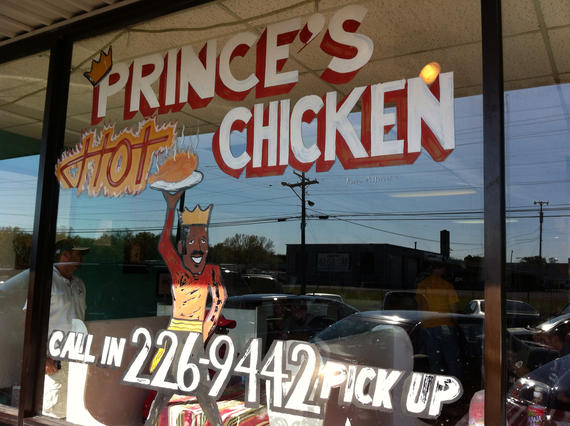 Prince's Hot Chicken
This is where we should be posting the hours.  But sadly, as we look at the hours sign in our photos, we now realize the posted sign is no longer accurate.  We're told they're now open until 2am on Saturday night.  (Saturday – noon until 2am, that is)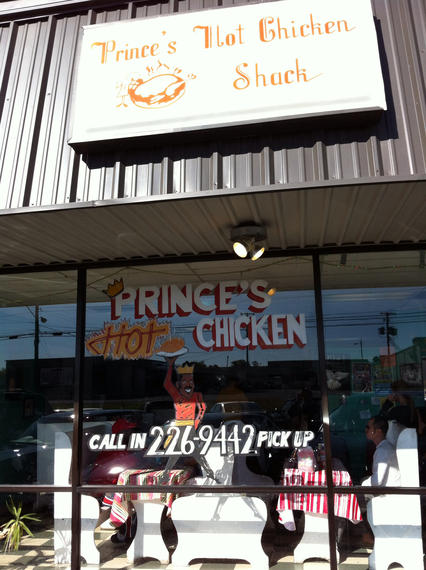 We were lucky enough to snag the window booth on the left just before our chicken was ready.  Perfect.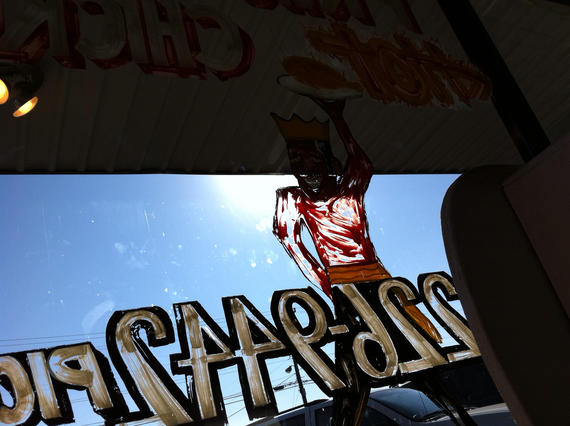 And, this was our view of pure blue sky as we put some heaven in our mouths.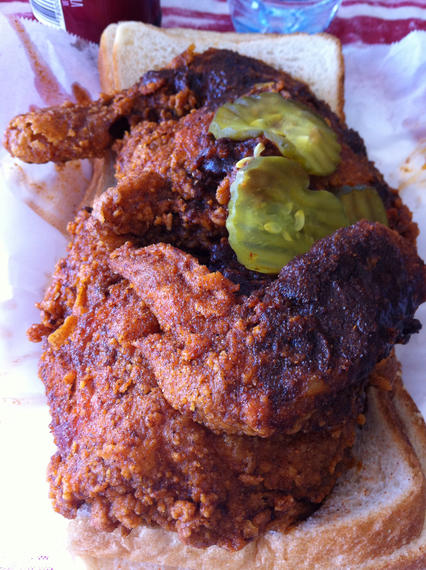 Perfect, seriously.  The thick golden brown crust was literally perfect on every order we saw pass through the window.  And, you will see many orders pass through that window before yours is ready.  There was a steady line of hot chicken fans the entire length of our visit.  We're sure that's no fluke.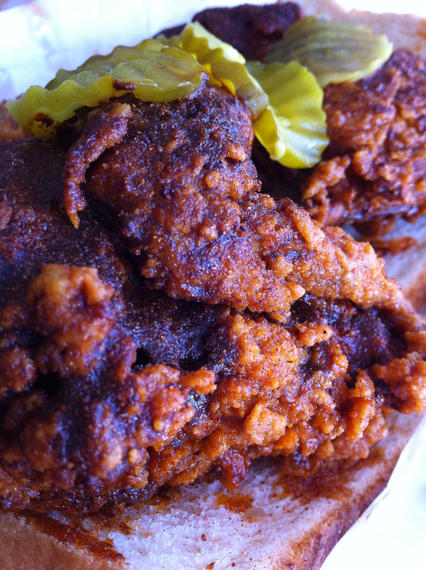 We ordered one half chicken medium, the other half hot.  This photo (above) was the hot version.  We're still debating the difference.  The hot is significantly hotter than the medium.  That's a well-known fact.  But, the debate revolves around the source of that heat.  Is it a different sauce?  Or, is it just MORE of the same sauce?  We're just not sure.  We are sure of one thing.  We love this hot chicken.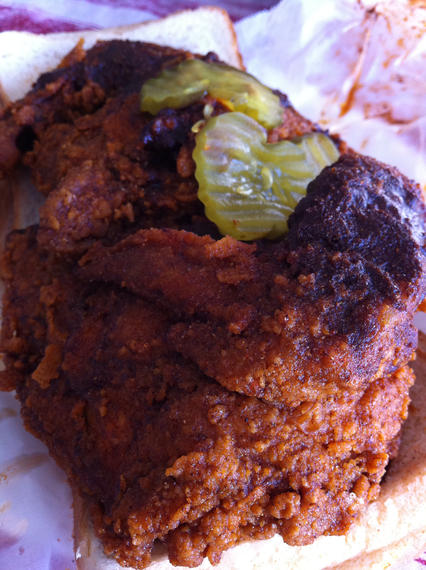 This is the medium.  Do not underestimate the medium.
Prince's medium will kick the ass of hot and extra hot chicken wings all across this country.
The breading is quite thick and dense.  It holds up beautifully to the buttery pepper sauce that's oozing with chili powder, cayenne, and other secret spices.  There really are no words other than delicious.
Finally, a fried chicken that gives Busy Bee's a run for its money.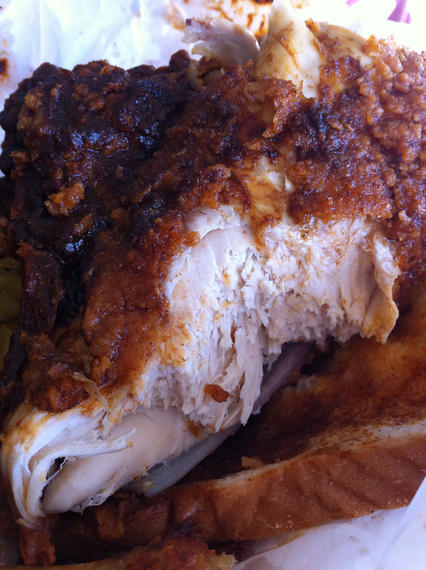 We believe these giant chicken pieces are part of a roaster.  But, they're still super juicy, tender, and chock full of rich chicken flavor.
…Beyond good, great, fabulous and divine.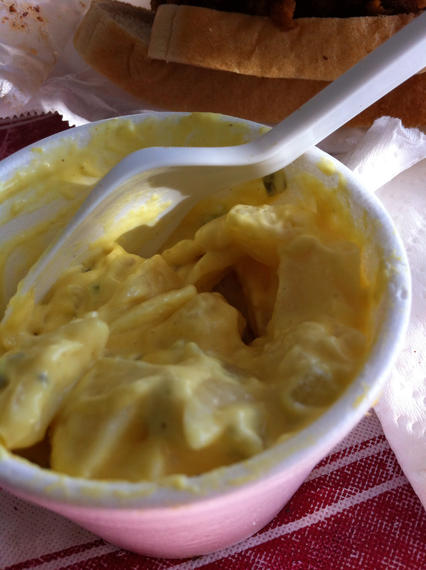 Sweet Potato Salad
Usually not a favorite of ours, we both agreed the sweet potato salad was a perfect fit for this chicken.  You need that sweet contrast to balance out the fiery heat of that sauce.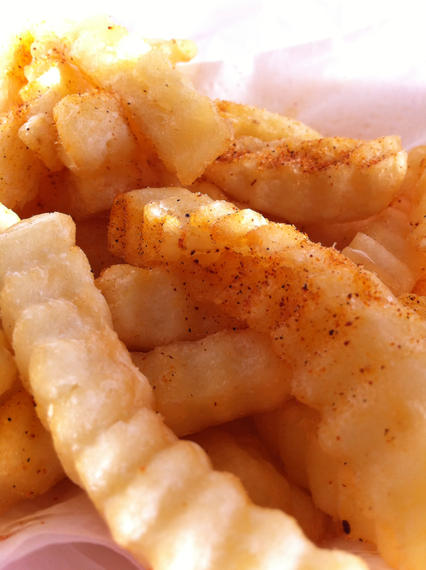 Even the fries have a mild heat.  We're thinking they've kicked up the Lawry's seasoning salt with more hot pepper … a chili powder and cayenne blend, maybe?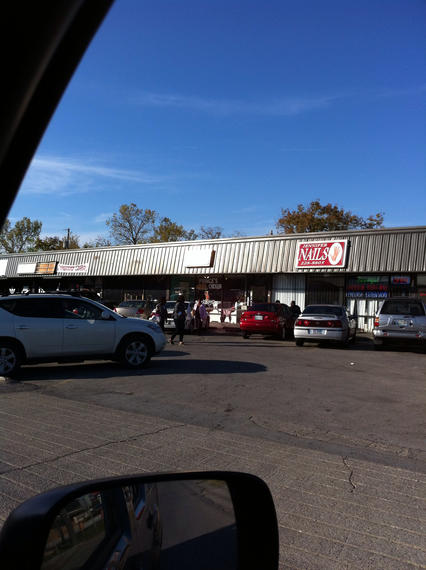 We'll never forget our first glimpse of Prince's.  And, we're sure that little sign glowing white from glare will be calling our names again …some time very soon.
Prince's Hot Chicken
123 Ewing Drive
#3
Nashville, TN 37207
615 226 9442